---
10 New Year's Revolutions
It's January, so like many, our Senior Youth Defense Counsel Kristina Kersey is planning the year ahead. But we're youth defenders, so we don't make resolutions, we make revolutions.
---
12 Days of Yuletide Youth-Tide
Looking to add some youth rights advocacy to your holiday celebrations? Senior Youth Defense Counsel Kristina Kersey has you covered, with 12 Days of Yuletide Youth-Tide. Happy holidays from Team NJDC!
---
10 Things I'm Thankful for as a Youth Defender
NJDC Senior Youth Defense Counsel Kristina Kersey strikes again and we are THANKFUL for it. Join us around the virtual Thanksgiving table for 10 things Kristina is thankful for as a youth defender. Spoiler alert: YOU are one of them!
---
Tales from the Gault
NJDC Senior Youth Defense Counsel Kristina Kersey is at it again, this time getting into the Halloween spirit with 10 of the scariest things about the juvenile legal system.
---
Back to (Defending Youth in) School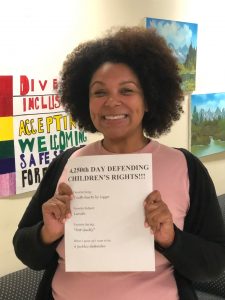 NJDC Senior Youth Defense Counsel, Kristina Kersey muses about one of her favorite times of the year: back to school, and specifically, back to defending youth in schools.
---
10 Things States Got Right in Youth Defense
NJDC Senior Youth Defense Counsel, Kristina Kersey discusses the 10 things states got right in youth defense (focused on the states that Kristina herself has visited!).
---
Keeping up with the Joneses
NJDC Senior Youth Defense Counsel, Kristina Kersey, muses on the "10 Things I Kinda Maybe Don't Hate" about the Supreme Court's recent decision in Jones v. Mississippi.
NJDC Believes Black Lives Matter
The National Juvenile Defender Center joins all those mourning the tragic murders of Ahmaud Arbery, George Floyd, Cornelius Frederick, Breonna Taylor, and countless other Black people across the United States.  Our work and lives as advocates for youth place us on the front lines, where we can and must seek justice, increase liberation, and demand an end to the entrenched racism that puts our young clients' lives at risks. We must make clear that we stand for a better time than now. The work of justice has always felt urgent. It is, indeed, a matter of life and death. Read NJDC's full
statement here
as well as our
racial justice and equity statements here
.
---
Joint Statement on the Importance of Specialization of Judges, Prosecutors, and Defenders in Juvenile Delinquency Proceedings
On April 27, 2021, Fair and Just Prosecution, the  National Council of Juvenile and Family Court Judges, and the National Juvenile Defender Center released a joint statement on the importance of specialization in juvenile delinquency proceedings. You may read the whole statement here.
National Juvenile Defender Center 
NJDC is a nonprofit organization dedicated to promoting justice for all children by ensuring excellence in juvenile defense. Through community building, training, and policy reform, we provide national leadership on juvenile defense issues with a focus on curbing the deprivation of young people's rights in the court system. Our reach extends to urban, suburban, rural, and tribal areas, where we elevate the voices of youth, families, and defenders to create positive case outcomes and meaningful opportunities for children. We also work with broad coalitions to ensure that the reform of juvenile courts includes the protection of children's rights — particularly the right to counsel.
---
---
Broken Contracts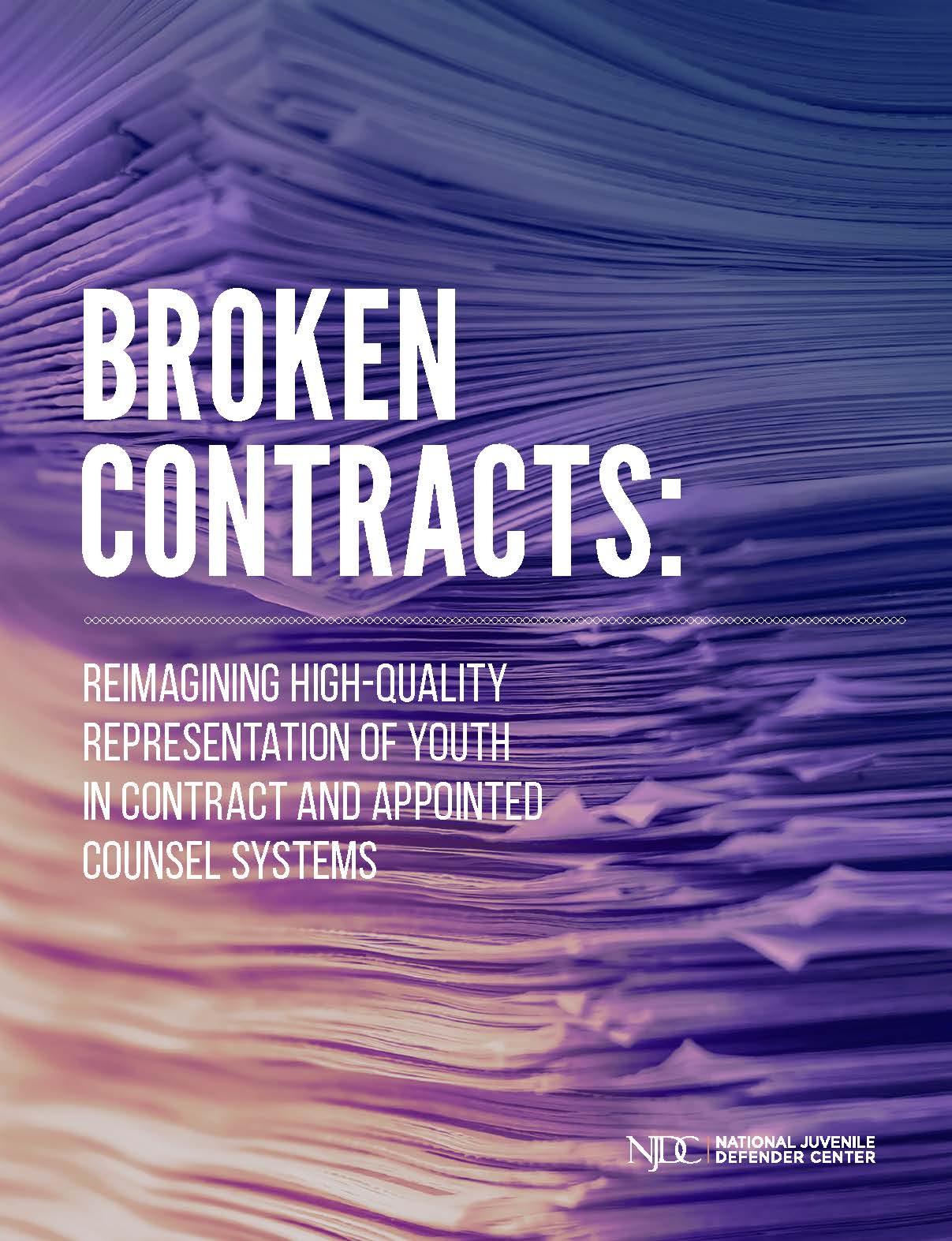 Though juvenile courts process more than 850,000 juvenile delinquency cases every year, no comprehensive data exists regarding how many young people are represented by public defenders or contract, appointed, or assigned counsel. While talented lawyers practice in each type of defense system, the resources and quality of representation can vary greatly. This report and toolkit examine ways to create greater support for and standardization of juvenile defense contract counsel systems to help strengthen young people's voices and rights in the legal system.
---
In re Gault
Fifty years ago, the United States Supreme Court affirmed that youth in America's juvenile courts are entitled to many of the same rights as adults, including the right to counsel, the right to notice of the charges against them, the right against self-incrimination, and the right to confront their accusers. This printed version of the case highlights some of the decision's most important points.
x
---
In re Gault Research Collection
In collaboration with the Georgetown Law Equal Justice Library, NJDC launched the In re Gault research collection, including the Gault footnote bibliography project, reports and training materials on children's right to counsel, audio-visual material of the Gault family and decision coverage, and court documents that trace the case's evolution from Gila County, Arizona, to the nation's highest court. Visit the collection here.
---