---
We're Hiring!
NJDC in the News
For more news, visit NJDC in the News.
---
In re Gault Research Collection
In collaboration with the Georgetown Law Equal Justice Library, NJDC launched the In re Gault research collection, including the Gault footnote bibliography project, reports and training materials on children's right to counsel, audio-visual material of the Gault family and decision coverage, and court documents that trace the case's evolution from Gila County, Arizona, to the nation's highest court. Visit the collection here.
---
Self-Assessment Tool
The Juvenile Committee of the National Association for Public Defense and NJDC developed a Juvenile Defense Self-Assessment Tool that is intended to create an opportunity to reflect on practices in public defender offices pertaining to the defense of juveniles in delinquency proceedings.
xxxXXxx
---
In re Gault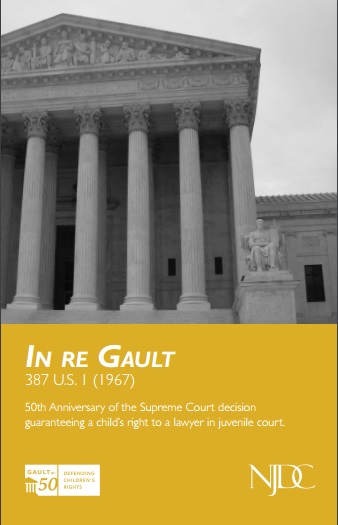 Fifty years ago, the United States Supreme Court affirmed that youth in America's juvenile courts are entitled to many of the same rights as adults, including the right to counsel, the right to notice of the charges against them, the right against self-incrimination, and the right to confront their accusers. This printed version of the case highlights some of the decision's most important points.
New Online Resource Helps Youth Access Record Clearance Information
The Clean Slate Clearinghouse, developed in collaboration with NJDC and the Council of State Governments Justice Center, Community Legal Services of Philadelphia, the National Association of Counties, and the National League of Cities, provides access to state statutory information related to record clearance policies in all 50 states and U.S. territories.
---
Register: 2018 Appellate Defender Training in New Orleans, LA
NJDC and the National Legal Aid and Defender Association are pleased to offer an appellate and writing skills training for defenders who serve young people. Attendees will receive more than 25 hours of group training and mentorship from distinguished faculty. View the flyer and register today!
---
NJDC Releases Judicial Bench Cards on SOGIE Advocacy and Adolescent Development
In partnership with the National Council of Juvenile and Family Judges and the State Justice Institute, NJDC published two bench cards: one to ensure fair and just treatment for LGBTQ-GNC people in juvenile court, and one promoting a judicial understanding of adolescent development in delinquency proceedings.
---
Delaware State Assessment
The National Juvenile Defender Center released a new report on access to counsel and quality of representation for youth in Delaware — our 22nd state assessment in two decades.
xx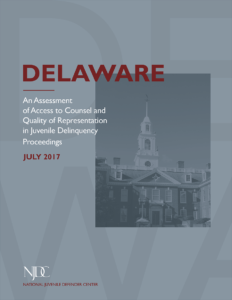 ---
Access Denied: A National Snapshot of States' Failure to Protect Children's Right to Counsel
Released on the 50th anniversary of the landmark Supreme Court decision In re Gault, NJDC's new report reveals that nearly every state falls short of its constitutional obligation to provide effective lawyers for youth. Based on statutory analysis and interviews with juvenile defenders in every state, the Snapshot exposes gaps in procedural protections for children — gaps that perpetuate the over-criminalization of youth, racial and economic disparities, and the fracturing of families and communities. Learn more here.
xxx
xxx
National Juvenile Defender Center 
NJDC is a nonprofit organization dedicated to promoting justice for all children by ensuring excellence in juvenile defense. Through community building, training, and policy reform, we provide national leadership on juvenile defense issues with a focus on curbing the deprivation of young people's rights in the court system. Our reach extends to urban, suburban, rural, and tribal areas, where we elevate the voices of youth, families, and defenders to create positive case outcomes and meaningful opportunities for children. We also work with broad coalitions to ensure that the reform of juvenile courts includes the protection of children's rights — particularly the right to counsel.
---
---
Gault at 50 Campaign
In 1967, the Supreme Court affirmed in In re Gault that children have a constitutional right to an attorney in juvenile court. But, nearly 50 years later, the promise of Gault remains unfulfilled. Through a dual approach of public awareness and policy reform, NJDC's Gault at 50 Campaign seeks to ensure that every child has access to skilled, high-quality legal representation. Sign the Statement of Principles and learn more on the campaign website.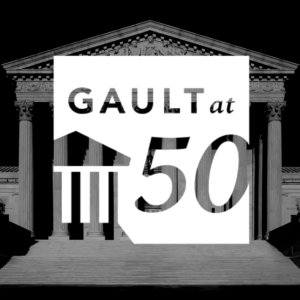 ---
A New Kind of Training
Developing a specialization in juvenile defense through new and innovative training programs that can be tailored for any jurisdiction.
---
Read All About It
Check out NJDC's array of free publications — infographics, issue briefs, and bench cards, among others — to share best-practices in juvenile defense and promote leadership and change at the local level.