Jimmonique Rodgers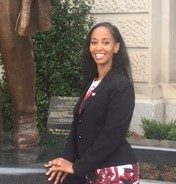 Deputy Director                                                                                          Georgia Public Defender Council                                                                  104 Marietta St. NW #400                                                                                   Atlanta, GA 30303                                                                                                404.795.2440                                                      Jimmonique.Rodgers@gapubdef.org
Jimmonique Rodgers is the Deputy Director of the Georgia Public Defender Council (GPDC). GPDC is the state agency responsible for providing indigent defense representation, consistent with the guarantees of the Constitution of the State of Georgia, the Constitution of the United States and the mandates of the Georgia Director of the Georgia Public Defender Counsel. The agency has over 400 state employed public defenders and a number of county employed public defenders who represent clients in 43 of the 49 judicial circuits.
Prior to serving as Deputy Director, Jimmonique was Director of the GPDC central Appellate Division. In that position, she supervised a staff of 10 attorneys and provided administrative oversight for a cadre of over 40 private attorneys providing appellate representation to indigent defendants through contracts with the agency. While personally representing clients, she also operated as a central resource for public defenders and private attorneys across the state on trial and appellate issues,. Jimmonique was appointed to the position of division director after working as juvenile appeals attorney with the division.
Before working at GPDC, Jimmonique served as an Assistant General Counsel for the national NAACP in Baltimore, Maryland. In this capacity, she handled criminal justice, military justice and juvenile justice issues from across the nation. Those issues ranged from initiating litigation, assisting in appealing lower court decisions and investigating non-judicial matters.
Jimmonique served ten years combined active and reserve duty time in the Army Judge Advocate General's Corp focusing the bulk of her time on criminal defense appeals, where she obtained the rank of major. While on active duty, she was a JAGC recruiter.
She has a Bachelor of Arts with honors in Political Science with a concentration in Public Administration. She received her Juris Doctorate degree with honors from North Carolina Central University School of Law and her Master of Science in Criminal Justice—specialization in juvenile justice—with honors from the University of Baltimore.