Jake Howard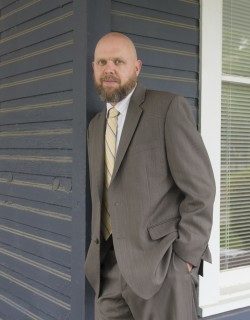 Adjunct Professor and Legal Director                                                        MacArthur Justice Center 
The University of Mississippi School of Law                                              P.O. Box 1848                                                                                                  Robert C. Khayat Law Center                                                                        769-233-7538
Service and Leadership                                                                          Gary Bellow Public Service Award, 2009
Education                                                                                                          B.A., University of Michigan                                                                          M.A., University of Washington                                                                    J.D., Harvard Law School                       
Bar Admission
Jacob Howard joined the Roderick and Solange MacArthur Justice Center at the University of Mississippi School of Law in 2015. He serves as Legal Director and works out of MJC's office in Jackson, Mississippi. Jake has litigated civil rights and criminal cases at the trial, appellate, and post-conviction stages in state and federal court.
Since 2013, he has been the co-coordinator of an effort to ensure that all juvenile offenders serving life sentences in Mississippi's prisons receive an opportunity for release on parole pursuant to the United States Supreme Court's decisions in Graham v. Florida and Miller v. Alabama.
From 2010 to 2012, Jake was an E. Barrett Prettyman Fellow at the Georgetown University Law Center in Washington, D.C. As a Prettyman Fellow, he represented indigent criminal defendants in the Superior Court of the District of Columbia, while also supervising student-attorneys and assisting with classroom instruction in Georgetown's Criminal Defense and Prisoner Advocacy Clinic. Before the Fellowship, Jake was a law clerk for the Honorable Myron H. Thompson in the United States District Court for the Middle District of Alabama.
Jake graduated magna cum laude from Harvard Law School, where he served as executive director of the Harvard Prison Legal Assistance Project and represented indigent clients in Boston-area criminal courts through the Criminal Justice Institute. In 2009, he was selected by a vote of the student body to receive the Gary Bellow Public Service Award in recognition of his commitment to social justice and public interest work while a student at Harvard Law School. In 2012, he received a master of laws degree in advocacy from the Georgetown University Law Center.
Prior to law school, Jake earned a bachelor's degree in philosophy, with highest distinction, from the University of Michigan and a master's in teaching from the University of Washington. From 2003 to 2006, he was a social studies teacher at a public high school in Covington, Wash.
Jake is admitted to practice in all Mississippi state and federal courts and the Fifth Circuit Court of Appeals.