Southern JDC
Southern Juvenile Defender Center COVID-19 Pandemic Policy Statement
Please read SJDC's COVID-19 statement here. 
Bail is Finally Eliminated for Juvenile Defendants in New Orleans
Orleans Parish Juvenile Court Judges voted to eliminate the practice of bail for juvenile defendants. The change comes as part of a larger effort to eliminate policies that base liberty on a person's wealth.  "Moving forward in New Orleans, youth will not be detained when the only impediment to release is indigence," said Chief Judge Candice Anderson. The new policy took effect Dec. 19. Youth will now be released on their parents' recognizance, unless there is "an established likelihood of failure to appear," or if the alleged offender is a danger to themselves or others.  If you would like more information, then please read here.
Advisory Council Member Receives Catherine Lafleur Legal Award For His Advocacy  
We want to take a moment to congratulate SJDC Advisory Committee Member Richard Pittman who was recently awarded the Catherine LaFleur Legal Award for his outstanding advocacy.  This award is given annually to commemorate outstanding legal advocacy for children and families and demonstrating a long-term commitment to improving the lives of children and exemplifying high levels of respect to the child welfare and legal systems.  We are extremely proud to have one of our own receive this honor!
Louisiana Passes Anti-Shackling Legislation
Louisiana became the 31st state to prohibit the shackling of youth in juvenile court except under limited circumstances. Under the newly signed Act 453, youth can only be shackled in a delinquency proceeding if the court finds that shackling is necessary to prevent flight from the courtroom or harm to the youth or another person.  The bill became effective on August 1, 2018.  The full text of the legislation can be found
here
.
Gar Blume Takes Home the Robert E. Shepherd Leadership Award
NJDC presented Gar Blume of Alabama with the Robert E. Shepherd Jr. Leadership Award.  Gar practices with the firm of Blume & Blume in Northport, AL. His practice focuses on trials and appeals of juvenile court, criminal defense, and disability matters. In 2015, Mr. Blume received the Beddow Award for Lifetime Achievement, by the Alabama Criminal Defense Lawyers' Association. Hewas the 2012 and 2014 recipient of the ACDLA's Award for Outstanding Representation in a Criminal Case. He chairs the Alabama State Bar Task Force on Juvenile Law, Child & Adolescent Rights. Mr. Blume also chairs the Tuscaloosa County Juvenile Bar Committee, the only source of regular juvenile court representation training in Alabama. Mr. Blume is a long time member of the advisory board for the Southern Juvenile Defender Center and as a court appointed juvenile defender provides leadership to defenders in rural Alabama and across the Southern states.
Supreme Court: Persons Serving Mandatory Life Sentences without Parole for Offenses Committed As Minors Are Entitled to Resentencing
The United States Supreme Court on January 25, 2016, extended a line of cases affording heightened constitutional protections related to the sentencing of juvenile defendants when it handed down its decision in Montgomery v. Louisiana, 193 L. Ed. 2d 599. Montgomery made retroactive the Court's prior Eighth Amendment ban on mandatory juvenile life without parole (JLWOP) sentences imposed by Miller v. Alabama, 132 S. Ct. 2455 (2012). The Court held that the rule prohibiting mandatory JLWOP sentences was retroactive as a new substantive, rather than procedural, constitutional rule under the standard elaborated in Teague v. Lane, 489 U.S. 288 (1989).
In determining that the ban was a new substantive rule, the Court relied heavily upon the unique developmental characteristics of youth that, recent research has found, fundamentally distinguish adolescents from adults. These same developmental differences were also at the heart of the Court's reasoning in Roper v. Simmons, 543 U.S. 551 (2005), which led to the abolition of the juvenile death penalty, and in Florida v. Graham, 560 U.S. 48 (2010), in which the Court imposed a categorical ban on JLWOP sentences for non-homicide cases. Although some state courts had already found Miller to be retroactive, the Montgomery decision affects more than 2,000 individuals nationally who were sentenced to mandatory life without parole sentences for homicides and are now entitled to new sentencing hearings, including 247 individuals in Louisiana, 227 in Florida, 78 in North Carolina and 66 in Mississippi.
Adolescent Brain Research Continues to Reveal that Juvenile Risk-Taking Does Not Predict Adult Criminality
As any parent knows, risky teen behavior crosses all socio-economic lines—and now the research that proves that kids are, indeed, different is going mainstream. The New Yorker magazine published "The Terrible Teens," an article discussing two recent books authored by renowned experts who break the science down into lay terms, and remind us that we only reached adulthood by surviving our own risk-taking teen years. Why are kids so impulsive? Why don't the strategies we've tried work to prevent teen thrill-seeking? What do we need to understand about teenage behavior?
An extended discussion with the scholars quoted in the New Yorker article can be found here.
Department of Justice Expresses Concern with Quality of Representation for Juveniles in Georgia
On March 13, 2015, the United States Department of Justice filed a Statement of Interest in N.P. v. Georgia, a civil rights case alleging constitutionally-deficient representation of juveniles in Georgia's Cordele Judicial Circuit. It was the first time that the DOJ filed a Statement in a state court action to address the due process right to counsel for children recognized by the U.S. Supreme Court's 1967 decision In re Gault. Asserting that "the allegations at issue here are even more problematic because they apply to children," the Statement highlights the differences between children and adults in the justice system and emphasizes that defending children requires a unique skill set, including specialized training and experience. The Statement details the zealous representation that children are entitled to receive in juvenile court, including the requirement that children speak with an attorney before waiving the right to counsel.
The Statement of Interest is available online here.
SJDC Advisory Committee Member Jay Elliott is National Juvenile Defender Center's Latest "Advocacy Highlight"
South Carolina attorney Jay Elliott, a long-time member of the Southern Juvenile Defender Center's advisory committee, is the subject of the National Juvenile Defender Center's most recent "Advocacy Highlights" profile.
The article highlights Jay's years of fighting for juveniles, including his recent leadership in efforts to strike down policies of indiscriminate shackling of kids in court. As part of his work on that issue, he addressed the American Bar Association's House of Delegates earlier this year. A video of the debate regarding that body's resolution, which urges "a presumption against the use of restraints on juveniles in court," can be seen here (Jay's comments begin at 12:50).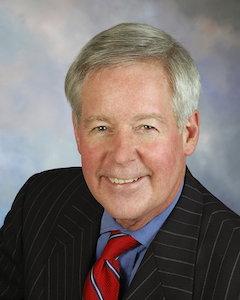 2015 SJDC Regional Summit in New Orleans is a Hit 
On June 5-6, more than 70 juvenile advocates from Alabama, Florida, Georgia, Louisiana, Mississippi, North Carolina, and South Carolina convened in New Orleans for the 2015 Southern Juvenile Defender Center regional summit. This year's summit focused on issues of race in the juvenile justice system, and it was very well received. For more, see this article by Richard Pittman of the Louisiana Public Defender Board, published on the website of the National Association for Public Defense.
South Carolina Bans the Automatic Shackling of Children in its Juvenile Courts
The South Carolina General Assembly passed a bill which would strictly regulate the imposition of restraints – shackling – in South Carolina's family Courts, which was then signed by Governor Nikki Haley. The anti-shackling bill was endorsed by the South Carolina Bar, the South Carolina Association for Justice, the South Carolina Association of Criminal Defense Lawyers, and the Lawyers Committee for Children's Rights headed by long-time juvenile defense advocate and SJDC Advisory Committee Member, Jay Elliott.
Read the bill,  S 440–Enrolled 5-28-2014 and Bar Resolution w Commentary & Appendix.