Federal Correctional Education Guidance:
What Juvenile Defenders Need to Know
In December 2014, the U.S. Department of Education and Department of Justice released a Correctional Education Guidance Package, aimed at helping state and local agencies improve the quality of education for youth in secure confinement. While the guidance package is specifically designed for juvenile justice agencies overseeing secure care facilities, it also provides useful information for juvenile defenders who are representing youth at risk of confinement and removal from community schools.
The Guiding Principles serve as a framework for improving education services for
youth in secure confinement. Viewing these principles as a set of federal standards for education programs in residential juvenile facilities, juvenile defenders can use the Guiding Principles at all stages of representation to advocate against confinement in facilities that fail to meet these standards. Example of uses include:
At disposition, advocating for probation to permit a youth to remain at home and attend regular school instead of ordering him or her to be confined at a facility known to fall short of federal educational services requirements.
Fighting the use of isolation of youth in secure facilities because the child is denied ordinary educational services in isolation, in violation of federal standards.
Judges take a juvenile's education very seriously. The following points and excerpts from the Guiding Principles may be useful for juvenile defenders when advocating for their clients. Any time a youth's current facility fails to meet these standards, it is grounds for advocating that the child be removed from that facility. If there is evidence that an intended facility is unwilling or unable live up to these principles, it should be used to argue against commitment to that facility.
Quality Education & Healthy Education Environments
"Providing youths with quality educational services during incarceration is essential to keeping them engaged in their education and focused on their futures, thereby enabling them to set realistic long-term goals, including a successful return to a community school or entry to a postsecondary institution upon release." (Page 1)
Facilities should ensure that environments are conducive to learning. (Page 2)
"The optimal environment for learning and success for students educated in secure care facilities—as for all students—is safe, supportive, and engaging." (Page 2)
"Because research- and practice-based evidence suggests that students in safe, supportive, and engaging environments are more likely to experience success in all facets of their lives, ensuring such environments in juvenile justice secure care settings is imperative." (Page 2)
Services for Students with Disabilities, English-Learner Students, & Youth in General
Under the Individuals with Disabilities Education Act and Section 504 of the Rehabilitation Act, facilities are federally required to provide students with disabilities with a free appropriate public education, including all necessary special education and related services. (Page 11)
"Section 504 and Title II of the Americans with Disabilities Act (ADA) require the following: that all programs, services, and activities, including buildings and technology, be accessible to persons with disabilities; that programs, services and activities, including educational services, be provided to persons with disabilities on an equal basis as for others; that communications with persons with disabilities be equally effective as communications with others; and that services to persons with disabilities be provided in the most integrated setting appropriate." (Page 12)
Federal civil rights laws require facilities to provide services to English-learner students so they can overcome language barriers and meaningfully participate in their school's education program. (Page 12)
Facilities should offer, or ensure access to, a broad range of supports and services for all youths. These supports and services should develop youth behaviors, skills, attitudes, and strategies conducive to successful academic performance and increased learning. (Page 11)
"[F]or students who struggle daily to adjust to life in secure care and/or demonstrate continuous failure in school, a facility should provide for specialized and intensive services, such as psychiatric treatment, specialized medical care, targeted individualized behavioral planning, or individually designed academic and vocational programming, as necessary." (Page 11)
Rigorous Curricula & Current Materials
Facilities should align teaching and learning to rigorous college and career ready standards. (Page 16)
Facilities should not automatically place youth in pre-GED or GED programs without fully considering paths to a regular high school diploma that is fully aligned with the state's academic content standards. (Page 18)
Facilities should provide students with current educational tools, such as Internet access. "[A]llowing system-involved youths to be deprived of this educational tool promotes inequities." (Page 18)
Facilities should provide rigorous education to its students, not busy work. "Despite their location in a facility, secure care classrooms should not be considered lesser learning environments where outdated materials and busy work are the norm." (Page 17)
Discrimination & Harassment
Federal civil rights laws require facilities to respond to youths' complaints of discriminatory harassment when it impacts the youth's ability to participate in or benefit from the facility's education program. (Page 10)
"Discrimination on the basis of race, color, national origin, sex, religion, or disability not only denies students their dignity, but also can limit their ability to learn and to benefit equally from all the supports and services offered by a facility." (Page 12)
*
Dear Colleague Letters
The Dear Colleague Letter on the Individuals with Disabilities Education Act (IDEA) clarifies state and public agency obligations to ensure that eligible students with disabilities in correctional facilities receive a free appropriate public education. The letter explicitly points out that all IDEA protections apply to students with disabilities who are in correctional facilities. Moreover, a free appropriate public education is the shared responsibility of all agencies, at all levels of government, involved in providing special education and related services to students in correctional facilities.
The following excerpts from the letter reinforce the rights of students with disabilities in correctional facilities and stress the importance of high quality education. Juvenile defenders may find these statements helpful when advocating for clients with disabilities, both pre- and post-disposition.
"[T]he fact that a student has been charged with or convicted of a crime does not diminish his or her substantive rights or the procedural safeguards and remedies provided under the IDEA to students with disabilities and their parents." (Page 1)
Students with disabilities should have the opportunity to attend regular classes and in extracurricular activities with non-disabled students as much as possible. (Page 14)
Teachers should think carefully before removing students with disabilities from the classroom as a form of discipline because any exclusion is harmful, given the instructional time students have already lost due to their involvement in the juvenile justice system. (Page 16)
Students with disabilities in a correctional facility are entitled to the same discipline-related protections afforded to all students with disabilities. (Page 16)
"Ensuring that students in correctional facilities are receiving a high quality education will have a clear, positive effect in reducing recidivism and increasing post-release success in higher education, employment, and other life endeavors." (Page 20)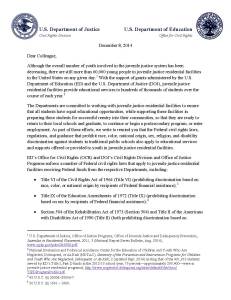 The Dear Colleague Letter on the civil rights of students in residential facilities clarifies that federal civil rights laws prohibiting discrimination based on race, color, national origin, sex, religion, and disability apply equally in residential treatment settings as they do in traditional public schools. Juvenile defenders can use the statements in this letter to challenge acts discrimination in residential facilities.
In one example, the letter requires facilities to afford students equal education opportunities without regard to sex. This means that facilities cannot rely on gender stereotypes when counseling students or determining academic, career, and technical opportunities available to students.
The Dear Colleague Letter on Federal Pell Grants for students in confinement explains that students who are confined or incarcerated in juvenile justice facilities who otherwise meet applicable eligibility criteria are eligible for Federal Pell Grants because juvenile justice facilities are not "penal institutions" for purposes of the Federal Pell Grant Program. This is true regardless of the student's age, type of sentence, length of sentence, and status as an adjudicated juvenile or convicted adult. Students who are adjudicated or convicted, however, are ineligible for Title IV student loans. Juvenile defenders can use this letter to inform clients of their Pell Grant eligibility.