South Carolina
Juvenile Indigent Defense Delivery System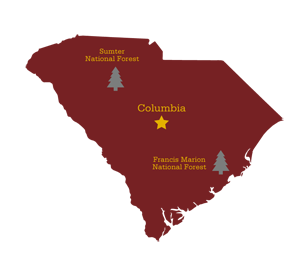 South Carolina provides counsel to indigent youth at the trial level through a county-based system with state oversight. Each judicial circuit has a Circuit Public Defender who is responsible for the administration of public defender services, including indigent juvenile defense, in each of the counties within the circuit. Circuit Public Defenders are employees of the State of South Carolina. Funding for each circuit comes from the State of South Carolina and from each of the counties within that circuit.
The South Carolina Bar also maintains a list by county of "regular members who normally represent at least three (3) clients before the court of general sessions during a calendar year and are eligible for appointment in the county," to represent youth in juvenile delinquency matters. S.C. App. Ct. R. 608(c)(1)(A).
The South Carolina Commission on Indigent Defense sets eligibility guidelines for clients, defines qualifications for attorneys, offers trainings and research materials, and distributes state funds to supplement county expenditures on public defense.
The South Carolina Commission on Indigent Defense has promulgated Performance Standards for Indigent Defense in Juvenile Cases for all public defenders and appointed counsel representing juveniles.
Court Rules
In addition to statutes and case law, juvenile court proceedings are governed by court rules. These are often promulgated at the state level, but may also be passed at the local court level instead of or in addition to statewide rules. South Carolina's delinquency proceedings are governed by the South Carolina Rules of Family Court.
Right to Counsel
Beyond the right to counsel in juvenile court guaranteed by the Due Process Clause of the United States Constitution and In re Gault, 387 U.S. 1 (1967), states often have state constitution or statutory provisions further expanding upon on or delineating that right.
In South Carolina, youth in family court have the right to counsel in every delinquency proceeding. S.C. Fam. Ct. R.36. Notice of the right to counsel, and, if indigent, the right to court-appointed counsel, must be provided to the child, their parents, guardians or persons with whom the child resides. S.C. Fam. Ct. R. 36.  In proceedings that "may result in commitment to an institution in which the child's freedom is curtailed," notice of the right to counsel must be provided in writing in advance of the proceeding. S.C. Code Ann. § 63-19-1030(D).
A child is specifically entitled to counsel at the following stages:
Detention hearing. S.C. Code Ann. § 63-19-830(A).
Parole and parole revocation decisions. S.C. Code Ann. § 63-19-1830.
Determination of Indigence
South Carolina has no presumption of indigence in juvenile court proceedings. For juveniles in delinquency proceedings, indigence is determined according to the financial situation of the youth's parents. S.C. Code Ann. § 63-19-1040. If the parents are found not to be indigent but refuse to retain counsel, the court may order the parents to reimburse the Indigent Defense Fund or to pay the court-appointed attorney for their child's legal costs. S.C. Code Ann. § 63-19-1040.
Applicants for public defense services must submit an affidavit stating their inability to retain counsel and listing their assets. S.C. Code Ann. § 17-3-45(A). The court may order partial payment if it finds that the person has sufficient funds to contribute to legal costs. S.C. Code Ann. § 17-3-30(A). Applicants must pay a $40 fee to apply for public defense services, but the court may waive or reduce the fee. S.C. Code Ann. § 17-3-30(B). The parents are responsible for applying for counsel and paying the application fee, and "must be advised in writing of this requirement at the earliest stage of the proceedings against the juvenile." S.C. Code Ann. § 17-3-45(C).
The fact that accused young person may have previously engaged and partially paid private counsel does not prevent them from later being determined indigent and receiving public defense services. S.C. Code Ann. § 17-3-10.
Waiver of Counsel
South Carolina's Children's Code makes two specific references to a juvenile's waiver of counsel. First, the prehearing inquiry statute states that in the hearing, the parent and child "must be specifically required to consider whether they do or do not waive the right of counsel." S.C. Code Ann. § 63-19-1030(D). Second, the detention hearing statute provides that a child cannot waive the right to counsel in a detention hearing unless the child has consulted "at least once with an attorney." S.C. Code Ann. § 63-19-830(A).
Detention Provisions
When and how the court may decide to detain a child or otherwise place restrictions on the child's freedom is defined by statute and court rules. In South Carolina, a detention hearing must occur within 48 hours of the child being taken into custody, excluding weekends and holidays. S.C. Code Ann. § 63-19-830(A). Provisions for the detention of juveniles are found in S.C. Code Ann. §§ 63-19-810 – 63-19-850 and S.C. Fam. Ct. R. 31 – 32. Pre-adjudicatory detention exceeding 48 hours requires a court order, and cannot exceed seven days without subsequent court orders. S.C. Fam. Ct. R. 31.
The U.S. Constitution and Supreme Court case law are also sources of due process rights beyond local and state statutes and provisions. NJDC's Detention Page provides more information about detaining youth.
Post-Disposition Advocacy
The legal needs of children in the delinquency system rarely end at disposition, and states vary in the way they provide a right to representation on these post-disposition issues. South Carolina statutes list one post-disposition proceeding at which youth have a right to counsel:
Parole and parole revocation decisions. S.C. Code Ann. § 63-19-1830.
NJDC's Post-Disposition Page has more information on this topic from a national perspective.
Ages of Juvenile Court Jurisdiction
The age of a youth who comes within the jurisdiction of the state's juvenile courts is defined by state law. In South Carolina:
No statute specifies the youngest age at which a youth can be adjudicated delinquent.
Juvenile court has jurisdiction over offenses alleged to have been committed prior to a young person's 17th birthday; after age 17, the youth is charged in adult court. S.C. Code Ann. § 63-19-20(1).
Juvenile court can retain jurisdiction over youth until age 21, provided that the alleged offense occurred before the youth turned 17. S.C. Code Ann. § 63-3-510(B). Juvenile probation, however, can only last until age 18. S.C. Code Ann. § 63-3-510(B). On July 1, 2019, the statute will expand juvenile court jurisdiction to children 18 or younger. S.C. Code Ann. § 63-3-510.
Youth in Adult Court
Despite the existence of juvenile courts, many youth are still tried as adults. South Carolina has two ways that juveniles can be prosecuted as adults:
Discretionary and Mandatory Waiver: South Carolina statute provides for discretionary waiver of juvenile court jurisdiction for certain statutorily delineated classes of youth 14 and older. S.C. Code Ann. §§ 63-19-1210(4), (5), (9). The court must waive jurisdiction for children 14 and older who have been adjudicated delinquent for two prior offenses and who meet the criteria outlined in the statute. S.C. Code Ann. § 63-19-1210(10).
Statutory Exclusion: Youth who are 16 or older and "charged with a Class A, B, C, or D felony … or a felony which provides for a maximum term of imprisonment of 15 years or more" are considered adults. S.C. Code Ann. § 63-19-20(1). However, disposition may be remanded to juvenile court at the solicitor's discretion. S.C. Code Ann. § 63-19-20(1).
Assessments
NJDC conducts statewide assessments of access to counsel and the quality of juvenile defense representation in delinquency proceedings around the country. These assessments provide a state with baseline information about the nature and efficacy of its juvenile indigent defense structures, highlight the strengths and weaknesses of the indigent juvenile defense system, and provide tailored recommendations that address each state's distinctive characteristics to help decision-makers focus on key trouble spots and highlight best practices. The NJDC State Assessment Page provides more information about state assessments.
The South Carolina Assessment was completed in 2010.
Current through July 2018.