Illinois
Juvenile Indigent Defense Delivery System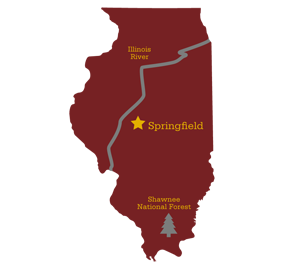 Illinois provides counsel to indigent youth through a county-based system. Counties with a population greater than 35,000 must establish a public defender office. 55 Ill. Comp. Stat. Ann. 5/3-4001. Smaller counties may establish public defender offices alone or in conjunction with a county within the same judicial circuit. 55 Ill. Comp. Stat. Ann. 5/3-4002, 5/3-4003.
Public defenders represent youth in their jurisdictions who are charged with delinquent acts. 55 Ill. Comp. Stat. Ann. 5/3-4006 (referencing 705 Ill. Comp. Stat. Ann. 405/1-5). Illinois has a state-funded appellate defender office with an active juvenile practice. 725 Ill. Comp. Stat. Ann. 105/10. While Illinois has no statutorily required or recommended training requirements or standards for attorneys representing youth in delinquency proceedings, the State Appellate Defender may establish the Juvenile Defender Resource Center to "develop and provide training to public defenders on juvenile justice issues, utilizing resources including the State and local bar associations, the Illinois Public Defender Association, law schools, the Midwest Juvenile Defender Center, and pro bono efforts by law firms." 725 Ill. Comp. Stat. Ann. 105/10(c)(6).
Illinois youth have a right to a trial by jury if they are deemed by statute to be "violent" or "habitual" juvenile offenders, or the prosecution is an extended jurisdiction juvenile prosecution. 705 Ill. Comp. Stat. Ann. 405/5-820(d), 405/5-815(d), 405/5-810(3).
Court Rules
In addition to statutes and case law, juvenile court proceedings are governed by court rules. Illinois does not have specific juvenile court rules at the statewide level, but Illinois Supreme Court rules for other proceedings (such as the Rules on Criminal Proceedings in the Trial Court) may apply in juvenile court proceedings. Specifically, the articles found within the Juvenile Court Act of 1987 apply to delinquency proceedings. In addition, local courts may have rules that apply to juvenile courts in that county or judicial district.
Upon the agreement of the prosecutor and the youth and with the approval of the court, Illinois youth charged with drug-related offense are screened for eligibility for juvenile drug court. 705 Ill. Comp. Stat. Ann. 410/25.
Right to Counsel
Beyond the right to counsel in juvenile court guaranteed by the Due Process Clause of the United States Constitution and In re Gault, 387 U.S. 1 (1967), states often have state constitution or statutory provisions further expanding upon on or delineating that right.
In Illinois, youth subject to court proceedings have the right to counsel. 705 Ill. Comp. Stat. Ann. 405/1-5(1).
"At the request of any party financially unable to employ counsel . . . the court shall appoint the Public Defender or such other counsel as the case may require." 705 Ill. Comp. Stat. Ann. 405/1-5(1).
"No hearing on any petition or motion filed under [the Juvenile Court Act] may be commenced unless the minor who is the subject of the proceeding is represented by counsel." 705 Ill. Comp. Stat. Ann. 405/1-5(1).
Moreover, any youth younger than 15 years of age at the time of the act, who is accused of certain enumerated serious offenses, must be represented by counsel during the entire custodial interrogation process. 705 Ill. Comp. Stat. Ann. 405/5-170(a); 55 Ill. Comp. Stat. Ann. 5/3-4006.
A youth is specifically entitled to counsel at the following stages:
Detention hearings. "No [detention] hearing may be held unless the minor is represented by counsel and . . . until the minor has had adequate opportunity to consult with counsel." 705 Comp. Stat. Ann. 405/5-501.
Probation Revocation hearings. At a probation revocation hearing, the State "shall" have the burden of proof by a preponderance of the evidence, and the evidence "shall" be presented "with the right of confrontation, cross-examination, and representation by counsel." 705 Comp. Stat. Ann. 405/5-720(3).
Transfer hearings. "A minor must be represented in court by counsel before the [transfer] hearing may be commenced." 705 Comp. Stat. Ann. 405/5-805(4).
Determination of Indigence
Illinois has no presumption of indigence in juvenile court proceedings. The court determines whether an individual is unable to employ counsel. 725 Ill. Comp. Stat. Ann. 5/113-3(b). However, a minor may not waive his or her right to counsel, therefore rendering indigence determinations irrelevant. 705 Ill. Comp. Stat. Ann. 405/5-170(b).
Waiver of Counsel
A minor under the age of 17 may not waive the right to the assistance of counsel in any judicial proceeding. 705 Ill. Comp. Stat. Ann. 405/5-170(b); 725 Ill. Comp. Stat. Ann. 5/115-1.5.
Detention Provisions
When and how the court may decide to detain a youth or otherwise place restrictions on the youth's freedom is defined by statute and court rules. In Illinois, a detention hearing must be held within 40 hours of detention, excluding weekends and court holidays. 705 Ill. Comp. Stat. Ann. 405/5-415(1).
Provisions for the detention of youth are outlined in Illinois state law. 705 Ill. Comp. Stat. Ann. 405/5-401, 405/5-410, 405/5-415, 405/5-501, 405/5-720(2). Notably, youth "12 years of age or older must be kept separate from confined adults and may not at any time be kept in the same cell, room or yard with confined adults." 705 Ill. Comp. Stat. Ann. 405/5-501(4).
The U.S. Constitution and Supreme Court case law are also sources of due process rights beyond local and state statutes and provisions. NJDC's Detention Page provides more information about detaining youth.
Post-Disposition Advocacy
The legal needs of youth in the delinquency system rarely end at disposition, and states vary in the way they provide a right to representation on these post-disposition issues.
In Illinois, youth have a right to counsel during probation revocation hearings. 705 Ill. Comp. Stat. Ann. § 405/5-720(3).
NJDC's Post-Disposition Page has more information on this topic from a national perspective.
Ages of Juvenile Court Jurisdiction
The age of a youth who comes within the jurisdiction of the state's juvenile courts is defined by state law. In Illinois:
No statute specifies the youngest age at which a youth can be adjudicated delinquent.
Juvenile court has jurisdiction over offenses alleged to have been committed prior to a youth's 18th birthday; after age 18, the youth is charged in adult court. 705 Comp. Stat. Ann. 405/5-105(3), 405/5-120.
Juvenile court may retain jurisdiction over youth until age 21. 705 Comp. Stat. Ann. 405/5-755(1).
Youth in Adult Court
Despite the existence of juvenile courts, many youth are still tried as adults. Illinois has two ways that youth can be prosecuted as adults:
Presumptive Transfer: Before the commencement of a trial, the State's Attorney may petition for a youth 15 years of age or older, alleged to have committed a forcible felony, and "(i) the [youth] has previously been adjudicated delinquent of found guilty for commission of an act that constitutes a forcible felony under the laws of this State or any other state and (ii) the act that constitutes the offense was committed in furtherance of criminal activity by an organized gang," for transfer to adult court. 705 Ill. Comp. Stat. Ann. 405/5-805(2).
Discretionary Transfer: Before the commencement of a trial, on motion by the State's Attorney, the court may transfer a youth 13 or older alleged to have committed a crime for prosecution under the criminal laws, if the juvenile judge "finds that there is probable cause to believe that the allegations in the motion are true and that it is not in the best interests of the public" to proceed with the case in juvenile court. 705 Comp. Stat. Ann. 405/5-805(3)(a).
Extended Jurisdiction Juvenile Proceeding: The state may petition for any youth age 13 or older with alleged felony charges to designate the proceedings as extended juvenile prosecution where the court shall impose one or more juvenile sentences and an adult criminal sentence, which "shall be stayed on the condition that the offender not violate the provisions of the juvenile sentence." 705 Comp. Stat. Ann. 405/5-810.
Statutory Exclusion: Youth 16 years of age and older charged with: "(i) first degree murder, (ii) aggravated criminal sexual assault, or (iii) aggravated battery with a firearm . . . where the [youth] personally discharged a firearm" are prosecuted automatically as adults. 705 Comp. Stat. Ann. 405/5-130(1)(a).
Assessments
NJDC conducts statewide assessments of access to counsel and the quality of juvenile defense representation in delinquency proceedings around the country. These assessments provide a state with baseline information about the nature and efficacy of its juvenile indigent defense structures, highlight the strengths and weaknesses of the indigent juvenile defense system, and provide tailored recommendations that address each state's distinctive characteristics to help decision-makers focus on key trouble spots and highlight best practices. The NJDC State Assessment Page provides more information about state assessments.
The Illinois Assessment was completed in 2007.
Current through July 2018.