Guam
Juvenile Indigent Defense Delivery System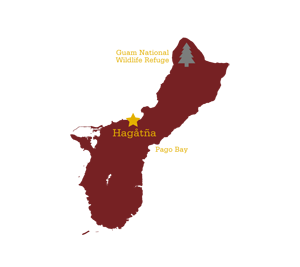 Guam provides counsel to indigent youth through the Public Defender Service Corporation (PDSC) of Guam, a statutorily created office designed to provide legal aid and assistance to indigent people in Guam in civil, criminal and juvenile proceedings. 12 Guam Code Ann. § 11103. Clients who cannot be represented by the Public Defender Services Corporation because of conflicts or other reasons are represented by the Alternate Public Defender.
Guam has no statutorily required or recommended training requirements or standards for attorneys representing youth in delinquency proceedings.
Court Rules
In addition to statutes and case law, juvenile court proceedings are governed by court rules. These are often promulgated at the state level, but may also be passed at the local court level instead of or in addition to statewide rules. Guam's delinquency proceedings are governed by the Family Court Rules for the Superior Court of Guam.
Guam's Family Division of the Superior Court maintains jurisdiction over all cases involving youth who have violated territorial law except those charged under the Vehicle Code. 19 Guam Code Ann. § 5103(a). If a criminal case is ascertained to involve a youth, it is the court's duty to transfer the case to the Family Division. 19 Guam Code Ann. § 5104. Additionally, Juvenile Conference Committees serve as an arm of the Family Division to hear and decide certain cases involving juvenile delinquency.  Appearance before and compliance with the committees is entirely voluntary. Guam Fam. Ct. R., r 5(b).
Youth involved in alcohol or drug related offenses are automatically assigned to Juvenile Drug Court. 7 Guam Code Ann. § 2101 note (2014) (explaining the continuation of the drug treatment program as a division of the Superior Court). Upon a finding of indigency, public defenders can represent youth in such cases. Juvenile Drug Courts focus on the rehabilitation of youth. Youth who admit to or are found guilty of drug-related offenses are referred to a treatment program.
Right to Counsel
Beyond the right to counsel in juvenile court guaranteed by the Due Process Clause of the United States Constitution and In re Gault, 387 U.S. 1 (1967), states often have state constitution or statutory provisions further expanding upon on or delineating that right.
In Guam, youth have the right to counsel in all causes in the Family Division. Guam Fam. Ct. R., r 11(a). Appointment is mandatory in delinquency proceedings where the youth is indigent. Guam Loc. R. Super. Ct. Misc. R., r 1.1.1(a)(1)(D). The court must advise "the [youth] and his or her parents, guardian, or custodian of their right to retain counsel and, if they are unable to afford counsel the court shall assign counsel to represent them unless such right . . . is expressly waived." Guam Fam. Ct. R., r 11(b). Notice is also provided in the summons for a court hearing, which "shall advise that the [youth] and his parents, guardian, or custodian have the right to be represented by counsel at every stage of the proceeding and that if unable to afford counsel, upon application to the court counsel will be assigned if in the opinion of the court the proceedings may result in the institutional commitment of the [youth]." Guam Fam. Ct. R., r 24(b).
Determination of Indigence
Guam has no presumption of indigence in juvenile court proceedings. The determination of indigence and subsequent referral to PDSC is at the discretion of the judge before whom the person appears. 12 Guam Code Ann. § 11104. All persons seeking counsel, including youth, must submit a Financial Declaration (affidavit) to the court. Guam Loc. R. Super. Ct. Misc. R., r 1.1.2(a). The court references a set of guidelines for eligibility determination. If the court then finds that a person is financially unable to employ counsel, the court will appoint counsel for that person. The court will not appoint unless the affidavit is submitted. Guam Loc. R. Super. Ct. Misc. R., r 1.1.2(a). The affidavit asks those under the age of 21 to provide their parent's or guardian's approximate monthly income. Guam Loc. R. Super. Ct. Misc. R., r 1.1, app. A.
Waiver of Counsel
A youth in Guam may expressly waive his or her right to counsel. Guam Fam. Ct. R., r 11(b). Guam does not have any other specific juvenile statute, rule, or case law further addressing a youth's waiver of counsel.
Detention Provisions
When and how the court may decide to detain a youth or otherwise place restrictions on the youth's freedom is defined by statute and court rules. "[A]ny duly appointed peace officer may take into custody without process any [youth] who in the opinion of the officer, is engaging in conduct defined by law as juvenile delinquency" to protect the health, welfare, and well-being of the youth, which is not deemed an arrest. Guam Fam. Ct. R., r 22(a). In Guam, if the officer decides the youth should not be released to the parent, the youth may not be "held in detention longer than two days, excluding Saturdays, Sundays, and holidays unless an order for such detention is signed by the judge." Guam Fam. Ct. R., r 22(c).
Provisions for the detention of youth are found in 19 Guam Code Ann. § 5111, and in Guam Fam. Ct. R., r 22.
NJDC's Detention Page provides more information about detaining youth.
Post-Disposition Advocacy
The legal needs of youth in the delinquency system rarely end at disposition, and states vary in the way they provide a right to representation on these post-disposition issues. Guam statutes list no post-disposition proceedings at which youth have a right to counsel.
NJDC's Post-Disposition Page has more information on this topic from a national perspective.
Ages of Juvenile Court Jurisdiction
The age of a youth who comes within the jurisdiction of the state's juvenile courts is defined by state law. In Guam:
No statute specifies the youngest age at which a youth can be adjudicated delinquent.
The Family Division's juvenile courtt has jurisdiction over youth alleged to have violated any territorial law and for whom the related legal proceedings are commenced prior to the child's 18th birthday; if the legal proceedings are first commenced after the youth turns age 18, the youth is charged in adult court. 19 Guam Code Ann.§ 5102(d), 5103(a)(4).
The Family Division's juvenile court has jurisdiction over traffic offenses alleged to have been committed prior to a youth's 16th birthday; after age 16, the youth is charged in adult traffic court. 19 Guam Code Ann. 5103(a)(4).
The Family Division's juvenile court may retain jurisdiction over youth until age 21, provided that the offense alleged to have been committed occurred before the youth turned 18. 19 Guam Code Ann. § 5105.
Youth in Adult Court
Despite the existence of juvenile courts, many youth are still tried as adults. Guam has two ways that youth can be prosecuted as adults:
Discretionary Transfer: If the youth is under 16 and the charge is homicide, or the youth is 16 or older and the charge is a misdemeanor or a felony of the third degree, "after full investigation," the court may transfer ("certify") the youth to adult court if the court deems it to be contrary to the best interests of the youth or public to pursue the case in the Family Division juvenile courts. 19 Guam Code Ann. 5106(a).
Statutory Exclusion: If the youth is 16 or older and charged with a first or second degree felony, that youth will be charged as an adult. 19 Guam Code Ann. 5106(a).
Assessments
NJDC conducts statewide assessments of access to counsel and the quality of juvenile defense representation in delinquency proceedings around the country. These assessments provide a state with baseline information about the nature and efficacy of its juvenile indigent defense structures, highlight the strengths and weaknesses of the indigent juvenile defense system, and provide tailored recommendations that address each state's distinctive characteristics to help decision-makers focus on key trouble spots and highlight best practices. The NJDC State Assessment Page provides more information about state assessments.
NJDC has not yet conducted an assessment of the juvenile indigent defense system in Guam. If you would like to collaborate with NJDC to fundraise for, plan, or engage in an assessment in this jurisdiction, please contact us.
Current through June 2018.