California
Juvenile Indigent Defense Delivery System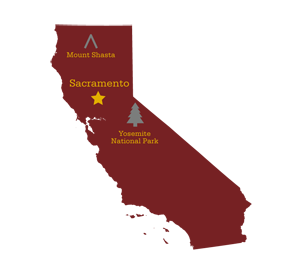 California provides counsel to indigent youth through a county-based system which includes public defender offices, contract attorneys, and private appointed attorneys. The dominant form of indigent representation is public defender offices. The California Public Defender Association maintains an on-line list of websites for counties with public defenders. Juvenile indigent defense attorneys are paid by the local county. Cal. Welf. & Inst. Code § 218. Where there is a conflict preventing representation by a public defender, the court may appoint defense counsel, which is also paid for by the county. Cal. Penal Code § 987.2(a)(3). Certain counties have lists of conflict counsel from which the court is to choose. See, e.g., Sonoma Cty. Super. Ct. Local Rules of Ct. R. 8.6.
The California Appellate Projects (CAP) are non-profit law organizations responsible for improving the quality of appellate representation, including appeals taken from delinquency adjudications. A CAP office serves each of California's appellate districts.
In 2015, the State Legislature passed AB 703, which outlines minimum training requirements for juvenile defense attorneys and recognizes the specialization of the field of juvenile defense. The bill makes clear the role of juvenile defenders and their obligation to provide effective, competent, diligent, and conscientious advocacy of the client's expressed interests. Cal. Welf. & Inst. Code § 634.3.
Some standards also exist at the county level. For example, in San Bernardino County, "Any attorney representing parties in juvenile matters shall not seek certification of competency and shall not be certified by the Court as competent until the attorney has met minimum standards of competency." An attorney meets the minimum standards where the attorney has either: "(a) Represented parties for at least six months in juvenile matters; or (b) Participated in at least eight hours of training or education in juvenile law. The training or education must have addressed Juvenile case law and statutes, the Rules of Court, Judicial Council forms, motions, trial techniques and skills, and writs and appeals. If the attorney seeks certification to represent parties in juvenile dependency matters, the training or education must also have addressed child development, child abuse and neglect, family reunification and preservation, and reasonable efforts." Super. Ct. of Cal., Cty. of San Bernardino, Local Rules of Ct., R. 1692.4.
Juvenile Court Rules
In addition to statutes and case law, juvenile court proceedings are governed by court rules. These are often promulgated at the state level, but may also be passed at the local court level instead of, or in addition to, statewide rules. California's juvenile court rules are called the Family and Juvenile Rules. Many counties in California have local rules; these can often be found on the California Courts' website.
Right to Counsel
Beyond the right to counsel in juvenile court guaranteed by the Due Process Clause of the United States Constitution and In re Gault, 387 U.S. 1 (1967), states often have state constitution or statutory provisions further expanding upon or delineating that right.
In California, youth in delinquency proceedings have the right to counsel at every stage of the proceedings, and the counsel remains the same unless relieved by the court. Cal. R. Ct. 5.663(c); Cal. Welf. & Inst. Code § 634.6. The right to counsel specifically includes:
Detention hearings, Cal. Welf. & Inst. Code § 633.
Status violation and delinquency proceedings, Cal. Welf. & Inst. Code § 634.
Appeals, Cal. R. Ct, 8.403(a).
Post-dispositional phase, Cal. Welf. & Inst. Code § 634.3(a)(3).
Hearing when the petition is read, Cal. Welf. & Inst. Code § 700.
Determination of Indigence
If the youth or their parent or guardian would like counsel but cannot afford it, the court may appoint counsel. The court "shall" appoint counsel if the youth appears at the hearing without counsel, regardless of indigency, unless the youth waives their right to counsel. In the absence of a waiver, if a parent or guardian is determined to have the ability to pay, counsel shall be appointed at the parent or guardian's expense. Cal. Welf. & Inst. Code § 634. The court can continue a hearing for up to seven days in order to make this determination.
Waiver of Counsel
In California, a youth may waive their right to counsel if the waiver is "intelligent." Cal. Welf. & Inst. Code § 634. A totality of the circumstances test is used to evaluate whether a juvenile's waiver of the right to counsel was knowing and voluntary. The totality of circumstances test "applies to minors as well as adults, and the age of the defendant is simply a factor, although an important one, to be weighed with many others in determining in any given case whether there has been a knowing and intelligent waiver of counsel." People v. Lara, 432 P.2d 202, 219 (Cal. 1967).
Detention Provisions
When and how the court may decide to detain a youth or otherwise place restrictions on the youth's freedom is defined by statute and court rules. In California, a detention hearing generally must occur as soon as possible no later than 48 hours after the child is taken into custody, excluding non-judicial days, after the petition is filed. Cal. Welf. & Inst. Code § 632(b). Provisions for the detention of juveniles are found in Cal. Welf. & Inst. Code §§ 625-641, and 657.
The U.S. Constitution and Supreme Court case law are also sources of due process rights beyond local and state statutes and provisions. NJDC's Detention Page provides more information about detaining youth.
Post-Disposition Advocacy
The legal needs of children in the delinquency system rarely end at disposition, and states vary in the way they provide a right to representation on these post-disposition issues. California statutes explicitly list one post-disposition proceeding at which youth have a right to counsel:
On Appeal. Cal. R. Ct. 8.403.
NJDC's Post-Disposition Page has more information on this topic from a national perspective.
Ages of Juvenile Court Jurisdiction
The age of a young person who comes within the jurisdiction of the state's juvenile courts is defined by state law. In California:
No statute specifies the youngest age at which a juvenile can be adjudicated delinquent;
Juvenile court has jurisdiction over offenses alleged to have been committed prior to a child's 18th birthday; after age 18, the youth is charged in adult court, Cal. Welf. & Inst. Code § 602;
If a youth is committed to the Department of Corrections and Rehabilitation, Division of Juvenile Facilities, then the juvenile court can retain jurisdiction over youth until age 23 or after a two year period of control, whichever happens later, provided that the offense alleged to have been committed occurred before the youth turned 18, Cal. Welf. & Inst. Code § 607(g)(1);
If a youth committed an offense that in criminal court would result in a sentence of seven years or more, then the juvenile court can retain jurisdiction until the youth is age 25 or expiration of a two-year period of control, whichever happens later, Cal Welf. & Inst. Code § 607(g)(2);
If a youth is committed to a state hospital or public/private mental health facility for certain offenses, the court may retain jurisdiction until the youth's 25th birthday, unless the court that committed that person finds that his or her sanity has been restored. Cal. Welf. & Inst. Code § 607(d).
Youth in Adult Court
Despite the existence of juvenile courts, many youth are still tried as adults. California has three ways that youth can be prosecuted as adults:
Discretionary judicial waiver: The juvenile court has original jurisdiction over most juvenile cases, but in certain delineated cases where the youth is either at least 14 years old and has allegedly committed listed offense or is at least16 years old and alleged to have committed a felony offense, the state may request that the juvenile court transfer jurisdiction to adult criminal court. The juvenile court must conduct a hearing and consider statutorily listed factors to determine whether to transfer jurisdiction. Cal. Welf. & Inst. Code § 707(a); Cal. R. Ct. 5.766(a).
Once an Adult, Always an Adult: California has a set procedure by which if a youth has been "found an unfit subject to be dealt with under the juvenile court law," and certain criteria are met, all future charges against them will be automatically prosecuted in adult criminal court. Cal. Welf. & Inst. Code § 707.01(a)(3).
Assessments
NJDC conducts statewide assessments of access to counsel and the quality of juvenile defense representation in delinquency proceedings around the country. These assessments provide a state with baseline information about the nature and efficacy of its juvenile indigent defense structures, highlight the strengths and weaknesses of the indigent juvenile defense system, and provide tailored recommendations that address each state's distinctive characteristics to help decision-makers focus on key trouble spots and highlight best practices. The NJDC State Assessment Page provides more information about state assessments.
NJDC has not yet conducted an assessment of the juvenile indigent defense system in California. If you would like to collaborate with NJDC to fundraise for, plan, or engage in an assessment in this state, please contact us.
Current through July 2018.