Alabama
Juvenile Indigent Defense Delivery System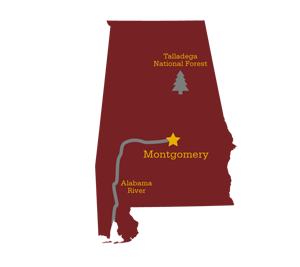 Alabama provides counsel to indigent youth through a state-funded localized system, which includes public defender offices, contract attorneys, and private appointed attorneys. Within each judicial circuit, Voluntary Indigent Defense Advisory Boards determine the indigent defense delivery method of that circuit. Ala. Code § 15-12-4(e). "The judge making a determination of indigency shall provide indigent defense services for the indigent defendant through an indigent defense system provided for the circuit" by the Indigent Defense Advisory Boards. Ala. Code § 15-12-5(d). "The public defender, at the request and with the consent of a municipal governing body and the office, shall represent indigent defendants in a municipal court within his or her geographic jurisdiction. The municipality shall reimburse the office of the public defender for the costs associated with the services rendered." Ala. Code § 15-12-42. The indigent defense system is state funded. Ala. Code § 15-12-6.
Alabama has no statutorily required or recommended training requirements or standards for attorneys representing youth in delinquency proceedings.
Juvenile Court Rules
In addition to statutes and case law, juvenile court proceedings are governed by court rules. These are often promulgated at the state level, and may or may not be supplemented by local court rules. Alabama's juvenile court rules are called the Alabama Rules of Juvenile Procedure.
Right to Counsel
Beyond the right to counsel in juvenile court guaranteed by the Due Process Clause of the United States Constitution and In re Gault, 387 U.S. 1 (1967), states often have a state constitution or statutory provisions further expanding upon on or delineating that right.
In Alabama, a youth's right to counsel is governed by a variety of statutes. Under Alabama law, youth in juvenile court have the right to counsel "at all stages of a juvenile court proceeding." Ala. Code § 12-15-202(f)(1). Appointment of counsel is mandatory in proceedings where "there is a reasonable likelihood such [proceeding] may result in a placement in an institution in which the freedom of the child is curtailed," Ala. Code § 12-15-210(b); and at the discretion of the judge upon request or when the court deems such appointment to be in the interest of justice. Ala. Code § 12-15-210(d).
A youth is specifically entitled to counsel at the following stages:
When being questioned in custody (prior to questioning "about anything concerning the charge on which the child was taken into custody," the youth must be informed that he or she has a right to an attorney). Ala. Code § 12-15-202(b)(1).
When detained at an intake office or detention facility. Ala. Code § 12-15-202(d)(1).
"[A]t all stages" of the delinquency proceedings. Ala Code § 12-15-210(a).
At hearings to modify custody and probation orders. Ala Code § 12-15-221(b) (providing for hearings "in the same manner and under the same safeguards provided for in this chapter for the issuance of the original order.").
When a youth is detained, Alabama requires parents and guardians to be notified promptly of the youth's location, reason for the detention, right to counsel, and right of the youth to remain silent, unless the youth waives those rights, in which case, parents or guardians need not be notified, nor be present for interrogation. Parents or guardians are given a written statement to this effect when they go to the facility, or it is mailed to them. This occurs after telephone/other notification. Moreover, a written statement of the youth's rights is to be given to the parents or guardians of a detained youth, unless the youth has already waived those rights. Ala. Code § 12-15-202(d)(1)-(2).
Determination of Indigence
Alabama defines an "Indigent Defendant" as any person involved in a juvenile proceeding, "who under oath or affirmation states that he or she is unable to pay for his or her representation, and who is found by the court to be financially unable to pay for his or her representation based on a written finding . . . that the person is indigent based on . . . [the federal poverty guidelines]." Ala. Code § 15-12-1(4).
When determining indigency, a judge may require an investigation and report by an officer of the court. In all cases requiring a determination of indigency, the judge will require "the accused to execute an affidavit of substantial hardship form." The affidavit and the subsequent order will become a part of the official court record in the case. Ala. Code § 15-12-5(c).
Alabama does not specify who must complete the affidavit of substantial hardship form in a juvenile proceeding.
Waiver of Counsel
Alabama does not have a specific juvenile statute, rule, or case law addressing a youth's waiver of counsel.
Waiver of counsel is only mentioned in the juvenile intake/detention setting, where, "if the child has been read his or her rights, understands those rights, and knowingly, voluntarily, and intelligently waives those rights, then it is not necessary that the parent, legal guardian, or legal custodian be notified of the rights of the child or be present during the interrogation." Ala. Code § 12-15-202(d)(1).
It is unclear what this standard entails or whether this waives the youth's rights for all future proceedings.
Detention Provisions
When and how the court may decide to detain a youth or otherwise place restrictions on the youth's freedom is defined by statute and court rules.  In Alabama, a detention or shelter care hearing must occur within 72 hours of placement, including weekends and holidays. Ala. Code § 12-15-207(a). Provisions for the detention of youth, including some restrictions limiting the ability to detain 10 to 12 year olds, are found in Ala. Code §§ 12-15-207(a) and 12-15-208(a) &(b).
The U.S. Constitution and Supreme Court case law are also sources of due process rights beyond local and state statutes and provisions. NJDC's Detention Page provides more information about detaining youth.
Post-Disposition Advocacy
The legal needs of youth in the delinquency system rarely end at disposition, and states vary in the way they provide a right to representation on these post-disposition issues. Alabama statutes provides for a post-disposition right to counsel:
At hearings to modify custody and probation orders. Ala. Code § 12-15-221(b).
NJDC's Post-Disposition Page has more information on this topic from a national perspective.
Ages of Juvenile Court Jurisdiction
The age of a youth who comes within the jurisdiction of the state's juvenile courts is defined by state law. In Alabama:
No statute specifies the youngest age at which a youth can be adjudicated delinquent. Ala. Code § 12-15-102.
Juvenile court has jurisdiction over offenses alleged to have been committed prior to a child's 18th birthday; after age 18, the youth is charged in adult court. Ala. Code § 12-15-102(1).
Note: Alabama law has a definitional gap between an "adult" – someone 19 years or older – and a "child" – someone younger than 18, Ala. Code § 12-15-102(1)-(3). However, an intermediate appellate case law has held that someone 18 years and 3 months old did not fall under the jurisdiction of the juvenile court. Burks v. State, 600 So.2d 374, 377-78 (Ala. Crim. App. 1991).
Juvenile court can retain jurisdiction over youth until age 21, provided that the offense alleged to have been committed occurred before the youth turned 18. Ala. Code § 12-15-102(3).
Youth in Adult Court
Despite the existence of juvenile courts, many youth are still tried as adults.
Alabama has three ways that youth can be prosecuted as adults:
Discretionary judicial waiver: Where a prosecutor can move to have the case transferred to adult court if the child is at least 14. Upon such a motion, the court must conduct a hearing and consider statutorily listed factors to determine whether to transfer the youth to adult court. Ala. Code § 12-15-203.
Statutory exclusion required where the youth is at least 16 and has committed a statutorily-delineated offense. Ala. Code § 12-15-204.
Once an Adult, Always an Adult. Ala. Code § 12-15-204(b).
Assessments
NJDC conducts statewide assessments of access to counsel and the quality of juvenile defense representation in delinquency proceedings around the country. These assessments provide a state with baseline information about the nature and efficacy of its juvenile indigent defense structures, highlight the strengths and weaknesses of the indigent juvenile defense system, and provide tailored recommendations that address each state's distinctive characteristics to help decision-makers focus on key trouble spots and highlight best practices. The NJDC State Assessment Page provides more information about state assessments.
NJDC has not yet conducted an assessment of the juvenile indigent defense system in Alabama. If you would like to collaborate with NJDC to fundraise for, plan, or engage in an assessment in this state, please contact us.
Current through June 2018.