State Profiles
Statutes, court rules, and other policies related to juvenile justice vary significantly by state. Clicking on the map or state names below will display information about each jurisdiction, including some or all of the following:
The structure of the juvenile indigent defense delivery system;
Juvenile court rules (where they exist);
How the right to counsel is understood in statutes/rules;
How indigence is determined;
What procedures and/or restrictions exist in terms of the juvenile's right to waive counsel;
Detention provisions;
Statutes/rules governing post-disposition advocacy;
The ages of minimum and maximum juvenile court jurisdiction;
What rules and processes govern the prosecution of youth in adult court; and
Whether the state has undergone an NJDC Assessment
Because rules, statutes, and procedures change regularly, often without notice, nothing in these pages should be considered as definitive or exhaustive research. This information is a starting point for understanding what juvenile indigent defense looks like on a state-by-state basis. While NJDC strives to keep this information up-to-date, attorneys and researchers should not use it as a substitute for independent research. 
Beyond individual state data, NJDC has also compiled select multi-state comparative analyses in a variety of areas that you might find useful.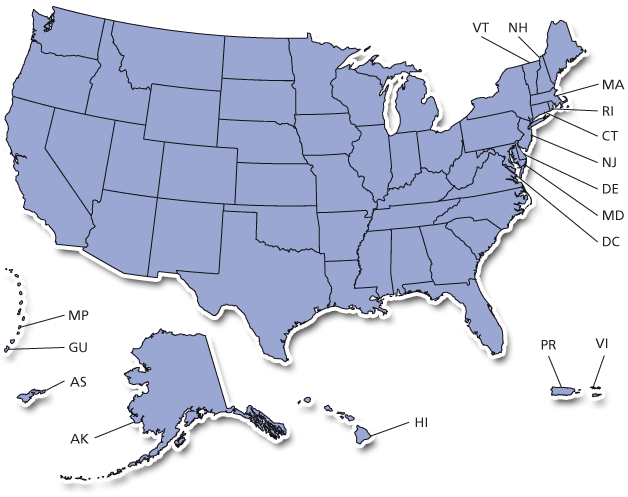 States: Alabama, Alaska, Arizona, Arkansas, California, Colorado, Connecticut, Delaware, Florida, Georgia, Hawaii, Idaho, Illinois, Indiana, Iowa, Kansas, Kentucky, Louisiana, Maine, Maryland, Massachusetts, Michigan, Minnesota, Mississippi, Missouri, Montana, Nebraska, Nevada, New Hampshire, New Jersey, New Mexico, New York, North Carolina, North Dakota, Ohio, Oklahoma, Oregon, Pennsylvania, Rhode Island, South Carolina, South Dakota, Tennessee, Texas, Utah, Vermont, Virginia, Washington, West Virginia, Wisconsin, Wyoming
Territories: American Samoa, District of Columbia, Guam, Northern Mariana Islands, Puerto Rico, US Virgin Islands