Policy Development
Policy advocacy is a key tool for creating reform in juvenile courts and juvenile indigent defense systems around the country. NJDC partners with governments, philanthropic foundations, agencies, and advocacy organizations at the local, state, and national levels in a variety of ways to effectuate reform. Policy reform strengthens juvenile indigent defense systems and encourages developmentally appropriate practices.
*
 "Juvenile Court history has again demonstrated that unbridled discretion, however benevolently motivated, is frequently a poor substitute for principle and procedure."
– In re Gault, 387 U.S. 1, 18 (1967)
Policy advocacy can take many forms:
Educational Campaigns
Educational campaigns can be conducted unilaterally by juvenile defenders, in partnership with other stakeholders and/or community members, or on behalf of issues impacting juvenile defense and youth clients. Educational campaigns provide information, materials, and resources to policymakers and stakeholders.  Below are several examples of successful educational campaigns.
Washington State Judicial Colloquies Project
The Washington State Judicial Colloquies Project sought to help youth and their families better understand court proceedings and outcomes through addressing the language used in court-ordered restrictions and obligations placed on the youth. The hope was that improved understanding would lead to greater compliance and more positive youth outcomes. The Project Team developed colloquies that were written at a sixth grade reading level and have a high readability score on the Flesch Reading Ease test. In comparison, the standardized orders used by Washington's juvenile courts are written at twelfth grade reading level and have a very low readability score (i.e., the orders are difficult to read and best understood by university graduates.) The Project's colloquies improved youth comprehension of the conditions of pre-adjudication release and post-adjudication probation commonly ordered in Washington's juvenile delinquency proceedings. Before their use, youth understood only 30% of the conditions ordered. With the use of the Project's colloquies, youth comprehension increased to 90%.  In addition to improving youth comprehension, the Project also increased stakeholder awareness of the importance of using developmentally appropriate language in juvenile court.
Florida's Campaign to Decrease Waiver of Counsel
Juvenile defense stakeholders in Florida sought to educate juveniles about their right to an attorney and the role an attorney plays in their case.  They created a brochure, Charged with a Crime, discussing the importance of talking to an attorney and the range of collateral consequences that can result from a juvenile court guilty plea. The brochure was disseminated across the state for juvenile defenders to place in courtrooms and detention centers.  Juvenile defense leaders also coordinated juvenile defender training on the significance of the defense role in the courtroom and the serious collateral consequences their youth clients could face if they were not zealously represented.
Florida's Juvenile Indigent Defense Action Network (JIDAN) chose two of Florida's 20 circuits with staggering waiver rates as pilot sites to monitor whether and how youth were truly being given a meaningful opportunity to consult with an attorney prior to waiver. Juvenile defense stakeholders monitored rates of waiver in those circuits and developed trainings and protocols on why children should not waive counsel and why consultation with an attorney prior to any waiver of counsel was paramount. Monitors also held meetings with judges to stress the importance of non-waiver. Educating and training defenders and judges had tremendous results, with waiver rates dropping from over 50% to well below 10% in both circuits.
Mikva Challenge, Cook County Juvenile Justice Youth Council: Expungement Application
With support from the Smart Chicago Collaborative, 25 Chicago high school students from the Mikva Challenge Juvenile Justice Council teamed up with a developer to create and launch a new Internet-based application—Expunge.io—that educates users about juvenile expungement in Illinois and connects them with legal counsel to assist with the expungement process. This application, launched in January 2014, helps users determine whether they are eligible for juvenile expungement, locate and retrieve arrest information and applicable paperwork, and connect to free legal resources in the community. The students used popular social media outlets including Vine, Twitter, and Facebook to publicize the launch of the application. While integrating technology into juvenile defense practice may appear daunting, this app was developed at very low cost and requires limited technical knowledge. Given its success, other youth advocacy organizations have begun to adapt this app in their jurisdictions. The launch of this app is a prime example of how creative community partnerships can be used to educate the community and make existing legal resources more accessible.
Ohio's Campaign to Decrease Waiver of Counsel
Advocates in Ohio led an educational campaign to win supporters for a rule on waiver of counsel and to win compliance once the new rule went into effect. Juvenile defense attorneys compiled a packet of materials to educate decision makers about the rationale for a rule change. In particular, stakeholders made clear that existing Ohio rules did not meet national standards for juvenile defenders and were not in line with federal and state Supreme Court jurisprudence mandating that children have meaningful access to counsel. This educational campaign was significant in leading to rule changes in Ohio.
A second educational campaign ensured that the rule changes in Revised Rules of Juvenile Criminal Procedure were known, understood, and implemented uniformly across the state. Advocates from the Children's Law Center, Inc. created a thorough implementation guide containing the rule, information about parent-child conflicts, a checklist for implementation, information about Ohio collateral consequences, a sample waiver form, and literature on the importance of meaningful consultation with counsel.
Colorado's Excellence in Juvenile Defense Conference
In the wake of NJDC's 2012 assessment of the Colorado juvenile defense system—which included a core recommendation for specialized juvenile defense training in the state—the Colorado Juvenile Defender Coalition and the Office of the Alternate Defense Counsel started an annual "Excellence in Juvenile Defense Conference"—a two-day conference aimed at inspiring juvenile defenders to take their zealous advocacy to the next level and create community and support within the Colorado juvenile defense bar.
Pennsylvania Model Expungement Policy
Pennsylvania juvenile advocates developed a statewide Model Expungement Policy to increase the expungement of juvenile records in Pennsylvania and establish uniformity across the state through county-based expungement initiatives. To assist with the filing of juvenile expungements under this model policy, Pennsylvania juvenile advocates identified pilot sites and recruited attorneys. This policy was enhanced by the publication of three expungement manuals geared towards juvenile defenders, youth, and the bench. This education campaign increased awareness of the existing expungement law.
Court Rule Reform
Court rule reform requires juvenile defenders to collaborate with like-minded reformers and to engage unlikely allies. Court rules can address problematic aspects of juvenile court practice, procedure, evidence, and process. Juvenile defenders interested in court rule reform will need to learn their state's unique rulemaking process. Juvenile defenders led the way on each of the following court rule reforms.
Illinois Court Rule on Appellate Review
MacArthur Models for Change partners and the Illinois Bar Association developed and supported the passage of a new rule to expedite the appeals of juvenile delinquency cases. In 2013, the Illinois Supreme Court adopted Illinois Supreme Court Rule 660A – Expedited Appeals in Delinquent Minor Cases. The rule ensures that juvenile cases are no longer placed on a "first in/first out" queue with adult criminal cases—a practice that often resulted in individual issues being moot before their juvenile appeals were resolved. The rule, which took effect on May 1, 2013, provides requirements that appeals be served on the trial judge, who must help expedite preparations for records on appeal. The rule also requires that oral argument determinations be made within seven days of the request and that the appellate court file a decision within 150 days after the notice of appeal is filed. Hopefully this rule will lead to a more complete and thorough body of case law that will ensure consistency and fairness in the juvenile delinquency system.
Pennsylvania Court Rule on Appellate Review
The Pennsylvania Supreme Court created a mechanism to review a juvenile court judge's opinion—short of formal appellate review—after an adjudication of delinquency removing a child from his or her home. Pennsylvania Rule of Appellate Procedure 1770, which went into effect in February 2013, now provides a mechanism for the expedited review of an order of out-of-home placement and requires the ordering judge to state the reasons for out-of-home placement on the record, at the time of disposition. The rule is designed to significantly decrease how long it takes to review out-of-home placements and provide youth with an opportunity for review before their time in placement runs its course.
Florida Court Rule on Early Appointment of Counsel
In response to NJDC's 2006 assessment of the Florida juvenile defense system, which included a core recommendation in that early appointment of counsel would improve the quality of representation, the Juvenile Court Rules Committee, at the behest of the then-Chief Justice of the Florida Supreme Court, amended the Florida Rules of Juvenile Procedure in several places. Effective January 2011, the amended rules provide for appointment of counsel at early critical stages of a case. Rule 8.010 was changed to mandate appointment of counsel at detention hearings and to require the presence of public defenders at those detention hearings, which now must be held within 24 hours of a youth being taken into custody. The rule further requires that defenders have "adequate notice" of the detention hearing to allow time to prepare and that an official record of the hearing be maintained. In addition, Rule 8.070 was amended to require appointment of counsel for youth facing less serious offenses and who get summoned to court for arraignment, rather than just those who are detained at arrest.
Pennsylvania Rule Amendment on Presumption of Indigence
The Interbranch Commission on Juvenile Justice (Commission) was created in the wake of the juvenile justice scandal in Luzerne County, Pennsylvania, with the mandate to investigate the causes of the scandal and provide recommendations for reform. In an effort to promote fairness and equity in the justice system and ensure access to counsel, the Commission recommended that "all juveniles should be deemed indigent for the purposes of appointment of counsel." In recommending a presumption of indigence, the Commission noted that many counties in Pennsylvania used the income of parents/guardians to determine a youth's financial eligibility for counsel—a practice the Commission deemed flawed because parents/guardians might have incomes just above the eligibility thresholds or be unwilling to pay for counsel. The Commission also described the potential conflict of interests between counsel, youth and parents/guardians that can arise when parents/guardians front of the cost of representation. The Pennsylvania Supreme Court adopted the Commission's recommendations and amended Rule of Juvenile Court Procedure 151 to deem all juveniles be presumed indigent. The rule went into effect in July 2011.
Florida Court Rule to Ending Indiscriminate Shackling of Youth
NJDC's assessment of access to and quality of juvenile defense counsel in Florida found that the indiscriminate shackling of youth was rampant across the state. Juvenile defenders mobilized across the state to encourage the end to automatic shackling. They reached out to their local bar associations, focusing on bar committees that worked on child-related issues. At the same time, defenders wrote op-eds, editorials, and obtained the support of law professors, pediatricians, and others. On July 25, 2008, the Florida Bar Board of Governors unanimously voted to support a statewide court rule to end indiscriminate shackling. The Florida Supreme Court held oral argument in June 2009 on the proposed rule change, and issued an order enacting Rule 8.100, which banned the indiscriminate shackling of youth in December of that year.
Washington Court Rule Ending Indiscriminate Shackling of Youth
The fight to end the indiscriminate shackling of youth in Washington began at the county level and ultimately led to a statewide ban on the practice. Attorneys at TeamChild and clinicians and students at the Defender Initiative and the Youth Advocacy Clinic at Seattle University School of Law were instrumental in raising awareness and coordinating a concerted effort to end youth shackling across the state. As a result of their efforts, county courts began issuing orders prohibiting the indiscriminate shackling of youth; juvenile defenders began regularly challenging instances of their clients' being shackled; and counties began adopting informal or unwritten policies against indiscriminate shackling. Advocates in the state seized this momentum and with the support of NJDC and the Washington State Bar Association urged the Washington State Supreme Court to issue a rule against the indiscriminate shackling of youth. Their efforts were a success and the new rule went into effect in the fall of 2014.
Florida Court Rule on Waiver of Counsel
In response to findings in NJDC's 2006 Florida Assessment documenting alarmingly high waiver of counsel rates by youth in delinquency proceedings, juvenile defenders worked with the Supreme Court of Florida to enact Florida Rule of Juvenile Procedure 8.165 (2008) requiring juveniles in delinquency proceedings to have a meaningful opportunity to consult with counsel before waiving their right to an attorney. The rule also mandates any waiver of counsel to be in writing.
Indiana Rule Amendment on Right to Counsel
In the wake of NJDC's Assessment in Indiana, stakeholders concerned about the prevalence of waiver of counsel in juvenile delinquency proceedings set out to lay a foundation for a rule change on waiver of counsel by educating others about the issue, providing sample testimonials from juveniles whose lives were changed forever because of their decision to forgo the assistance of counsel, collecting data about the number of incarcerated children who had waived their right to an attorney, and highlighting the fact that the current rule—which had no restrictions on a youth's ability to waive counsel—was out of step with national standards aimed at decreasing the incidence of waiver.
In December 2013, the Indiana Supreme Court adopted a proposed rule amendment to Indiana Criminal Rule 25: Right to Counsel in Juvenile Delinquency Proceedings requiring "…[a]ny waiver of the right to counsel shall be made in open court, on the record and confirmed in writing, and in the presence of the child's attorney." The rule amendment takes effect January 1, 2015.
Ohio Court Rule on Waiver of Counsel
Motivated by the sheer number of waivers and understanding the urgent need for reform, juvenile defense stakeholders in Ohio set out to decrease waiver of counsel in delinquency proceedings by pursuing a rule change. Juvenile defense advocates first became familiar with the process by which rule changes are initiated in the state: in Ohio the state Supreme Court has the authority to modify the juvenile procedural rules. In July 2012, Ohio Revised Rule of Juvenile Criminal Procedure 3—a rule aimed at decreasing youth's waiver of counsel in delinquency proceedings—went into effect.
Legislative Change
Juvenile defenders engaged in legislative change often spend as much time beating back punitive legislation as they do supporting developmentally appropriate constitutionally rooted reforms. Successful legislative reform requires juvenile defenders to seek broad based support and develop collaborations across political aisles. Juvenile defenders lent their voices to each of the following positive legislative changes.
Colorado Law on Early Appointment of Counsel
In late 2012, NJDC, in collaboration with the Colorado Juvenile Defender Coalition, released Colorado: An Assessment of Access to Counsel and Quality of Representation in Juvenile Delinquency Court—an evaluation of Colorado's juvenile indigent defense delivery system. In the wake of the assessment's release, Colorado leaders convened a Juvenile Defense Attorney Interim Committee to study the issues raised in the assessment and make recommendations for needed reform. Following the Committee's recommendations, and in line with expert testimony by NJDC and its partners, the Colorado legislature drafted new legislation—Provision of Defense Counsel to Juvenile Offenders Act, House Bill 14-1032—that included significant reforms related to timing and appointment of counsel. While the assessment found that detention hearings were largely disregarded by a significant number of juvenile defense offices, the new Colorado law requires juveniles be represented at such hearings and requires that juveniles be allowed sufficient time to consult with defense counsel prior to the detention hearing. The new law is effective as of November 1, 2014.
Illinois Law on Early Appointment of Counsel
A 2007 assessment of the juvenile defense system in Illinois found that although youth had a statutory right to counsel in delinquency proceedings, many youth met their attorneys at the same time they walked into court—effectively denying them the opportunity for meaningful consultation with their attorneys prior to their first court appearance. To remedy this problem, the Illinois legislature created a statutory right to appointment of counsel at the time the juvenile petition is filed, and requiring counsel to be given time to consult with minors who are detained prior to their first court appearance. This became effective on January 1, 2009. In January 2013, the Illinois legislature went even further in providing early access to counsel by statutorily mandating that youth under 13 charged with committing certain crimes (enumerated in the statute) "must be represented by counsel during the entire custodial interrogation of the minor", meaning that counsel must be appointed at the stationhouse.
Louisiana Law on the Presumption of Indigence for Youth Defendants
Juvenile defense stakeholders in Louisiana recognized that a lack of uniform standards for determining eligibility for indigent services created disparities in implementing the right to counsel across the state. With the support of the Juvenile Indigent Defense Action Network (JIDAN), these defense stakeholders engaged in negotiations with their counterparts at the Louisiana District Attorney Association to research and develop new legislation to create a uniform presumption of indigence for juveniles across the state. The resulting carefully developed statutory language was submitted to the Louisiana State Law Institute's (LSLI's) Children's Code Committee, which recommended that the legislature enact the new law providing that all juveniles are presumed indigent for purposes of appointing counsel. The Louisiana legislature passed the final legislation in June 2010.
Illinois Law to Establish the Juvenile Defender Resource Center
In 2007, the Illinois legislature passed a bill that established a Juvenile Defender Resource Center (Resource Center). The passage of this legislation was a result of NJDC's juvenile indigent defense assessment in Illinois and the work of Illinois advocates. The purpose of the resource center is to (1) study, design, develop, and implement model juvenile indigent defense delivery systems; (2) provide additional resources including trial counsel to give legal advice and funding to retain expert witnesses and investigators for youth facing incarceration or an adult sentence; (3) develop and provide training to public defenders on juvenile justice issues with the assistance of State and local bar associations, the Illinois Public Defender Association, law schools, the Midwest Juvenile Defender Center, and others; and (4) submit an annual report to the General Assembly. Although this legislation is supposed to fund the resource center every year through the Office of the Appellate Defender, to date it has not received appropriations. Currently the Illinois Juvenile Justice Initiative (JJI) is exploring the possibility of establishing the resource center through the Illinois Public Defender Association. Ideally, the resource center would be staffed by two full-time attorneys and an administrative support person. Despite the funding challenges, the passage of statewide legislation recognizing the importance of specialized juvenile defense practice and the existence of blueprint for a resource center are tremendous steps forward in juvenile defense leadership and capacity building worthy of replication in other states.
Louisiana Public Defender Board: Deputy Public Defender, Juvenile Defense Services
The aftermath of Hurricane Katrina amplified the longstanding failures of Louisiana's juvenile justice system nationally. The systemic barriers facing the state's juvenile defenders were paralyzing and resulted in grave injustice for Louisiana's children. In the midst of this tragedy, indigent defense advocates galvanized reform efforts that led to groundbreaking legislation, which established the Louisiana Public Defender Board (LPDB) in 2007. The LPDB was created to enforce statewide performance standards and administer the state indigent defense fund. The Deputy Public Defender, Director of Juvenile Defense Services serves on the statutorily mandated executive staff of the LPDB and exists to foster strong leadership, build capacity, and advance juvenile defense reform throughout the state. In this capacity, the Deputy Public Defender works with LPDB and juvenile justice stakeholders to develop sound juvenile justice policies and performance standards specific to the legal representation of children; provide specialized training for juvenile defenders; and support the development of juvenile law courses and clinics throughout the state. To enhance the growth of the practice, LPBD also created juvenile defense internship programs to draw dedicated young lawyers to the field. In addition to providing strong leadership, advancing policy reform, and building a supportive community of juvenile defenders, the Deputy Public Defender  and LPBD also support site-based initiatives, such as the MacArthur Foundation Models for Change and the Annie E. Casey Juvenile Detention Alternatives Initiative, by developing  statewide public defender protocols.
South Carolina Law to End Indiscriminate Juvenile Shackling
NJDC's juvenile defense assessment found indiscriminate shackling to be a statewide problem in South Carolina. In 2013, legislation introduced by several well-regarded legislators languished in the South Carolina General Assembly. With the tireless leadership of an array of supportive stakeholders, a statewide charge to end the indiscriminate shackling of youth was rejuvenated. The Lawyers Committee for Children's Rights obtained endorsements from the South Carolina Bar, the South Carolina Association for Justice, and the South Carolina Association of Criminal Defense Lawyers. Additionally, the Lawyer's Committee worked with the State Bar to create and pass a resolution and report that was ultimately circulated among legislators in support of the measure. As a result of the coordinated and complementary efforts of advocates, the bill was successfully reintroduced and passed in 2014, without a single dissenting vote. The governor signed it into law on June 2, 2014, and it went into effect the same day.
Standards, Guidelines, and Certification
Juvenile defense attorneys benefit from a set of clear and directive standards outling their ethical responsibilities toward their clients and other stakeholders in the juvenile court system. Defense agency supervisors benefit from a clear set of expectations against which to measure their attorneys' performance. Judges, prosecutors, probation officers, families, and other stakeholders benefit from a clear understanding of the role a juvenile defender plays in the larger court system, including what the juvenile defender can and cannot ethically do. While national standards, provide guidance on what best practice is across jurisdictions, states and local communities often develop their own standards.
National Juvenile Defense Standards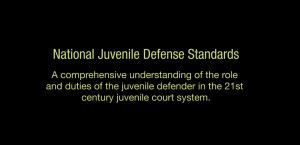 The Standards represent a comprehensive understanding of the role and duties of the juvenile defender in the 21st century juvenile court system and seek to strengthen and guide the ethical and professional performance of the juvenile defense attorney. The Standards present a national approach to systematizing zealous, competent, and diligent defense practice in juvenile court and set out a framework for representation that is anchored in the law, science, and professional codes of responsibility. Hard copies of the Standards are available.
Ten Core Principles for Providing Quality Delinquency Representation Through Indigent Defense Delivery Systems, 2nd Edition (2008)
Adopted in partnership with the American Council of Chief Defenders in December 2004 and revised and reissued in July 2008, these Core Principles provide criteria by which a public defense delivery system may provide high quality delinquency representation and fully implement the holding of In re Gault.

Florida Guidelines
Juvenile defense stakeholders from across the state participated in bi-monthly conference calls to examine existing juvenile-specific standards and draft guidelines in Florida. This collaborative work culminated in the Florida Guidelines of Practice for Attorneys Who Represent Children in Delinquency Proceedings—a comprehensive set of guidelines addressing the specific roles and responsibilities of attorneys appointed or retained to represent children in delinquency cases. The Florida Public Defender Association approved the guidelines in 2009, and they have since been widely disseminated to both attorneys and judges across the state.
Louisiana Standards
Under the leadership of the Louisiana Public Defender Board (LPDB)—an executive branch agency charged with improving fairness and accountability in Louisiana's courts—and with the input of defenders and stakeholders across the state, Louisiana promulgated the Trial Court Performance Standards for Attorneys Representing Children in Delinquency Proceedings (Louisiana Standards) in 2011. The Louisiana Standards are intended to promote zealous representation and professionalism in the representation of children in delinquency proceedings; to serve as a performance measure for practicing attorneys; and to serve as a resource for trainers and supervisors. The LPDB Compliance Officer and the Deputy Public Defender – Director of Juvenile Defender Services, are responsible for ensuring that District Defenders and their local offices comply with the Louisiana Standards.
Pennsylvania Guidelines
The Juvenile Defenders Association of Pennsylvania developed the Pennsylvania Performance Guidelines for Quality and Effective juvenile Delinquency Representation (Guidelines) "to provide clear standards regarding the ethical duties and responsibilities of juvenile defense counsel." To this end, the Guidelines incorporate principles from state and national rules of professional conduct, along with principles from Pennsylvania's Juvenile Act and Rules of Juvenile Court Procedure. They also emphasize the defense attorney's duty to continue representation through every stage of juvenile court proceedings, including post-disposition hearings. The Guidelines are used to train new and experienced attorneys and serve as a roadmap for juvenile indigent defense reform initiatives in Pennsylvania.
Massachusetts' Committee for Public Counsel Services Performance Standards for Certification
In addition to staffing regular public defender appointments, the Youth Advocacy Division (YAD) of the Committee for Public Counsel Services (CPCS) in Massachusetts, provides support and supervision to private panel attorneys handling delinquency and youthful offender cases in each of the state's twelve counties. To contract with the state, private attorneys must comply with rigorous CPCS Performance Guidelines, annual caseload limits, continuing legal education requirements, supervision, and oversight, among other requirements. All private counsel seeking to serve on the juvenile panel must be selected by a county-wide bar advocate program and obtain an initial juvenile delinquency certification, which requires at least one year of high-quality district court or comparable trial experience and eight hours of juvenile-specific training within twelve months of applying to serve on the panel. To maintain certification, juvenile delinquency panel attorneys are required to complete eight hours of juvenile-specific CLEs per year.
Testimony
When juvenile defenders are invited to testify before commissions, task forces, legislative bodies, and the like, we are able to give voice to the rights of our youth clients in a formal and powerful manner. The following are examples of juvenile defense testimony.
Testimony on a Developmental Approach to Juvenile Justice Reform
In February 2014, NJDC Deputy Director Mary Ann Scali provided testimony for the National Academies Division of Behavioral Sciences and Education Committee on the Prioritized Plan to Implement a Developmental Approach in Juvenile Justice Reform. She addressed three issues: (1) the role that juvenile defenders, courts, and prosecutors can play in reforming their juvenile justice systems to be more developmentally appropriate, (2) internal and external mechanisms needed to strengthen OJJDP's ability to provide training and technical assistance, and (3) how OJJDP can—with appropriate funding and authorization—support the adoption of a developmental approach in the juvenile justice system.
Testimony on American Indian/Alaska Native Children Exposed to Violence
In February 2014, Nadia Seeratan, NJDC's Senior Staff Attorney and Policy Advocate, testified before the Attorney General's Advisory Committee on American Indian/Alaska Native Children Exposed to Violence. Her testimony provided recommendations with a specific focus on the essential role of a juvenile defender in protecting youth in juvenile courts. In addition to the role of defense counsel, her testimony addressed adolescent development, guaranteed access to counsel, juvenile defense standards and specialization, and racial and ethnic disparity.
Testimony at the Civil Society Consultation for the US Universal Periodic Review to the UN
In April 2014, NJDC's Managing Attorney, Tim Curry, testified at the Universal Periodic Review Civil Society Consultation for US Government Agencies, which was held to inform executive office departments about how the US fairs on access to counsel as a human right. At the time, the United States was developing its reports to the UN Human Rights Council and the Committee on the Elimination of all forms of Racial Discrimination (CERD), both of which are focusing on access to counsel. Mr. Curry testified onthe disparate respect for access to counsel among states means that meaningful access to counsel for children in the US remains an issue of geography, despite positive steps at a federal level to focus attention on access to counsel for juveniles. Among the executive departments present were representatives from State, Education, Labor, Health and Human Services, Homeland Security, the White House, and various offices of the Department of Justice, including OJJDP, Civil Rights Policy Counsel, and Civil Rights-Special Litigation. The testimony as delivered before an audience of approximately 100 people, with the session streamed live on the internet.
Testimony on the Juvenile Defense Assessment in Colorado
In collaboration with the Colorado Juvenile Defender Coalition, released Colorado: An Assessment of Access to Counsel and Quality of Representation in Juvenile Delinquency Court—an evaluation of Colorado's juvenile indigent defense delivery system. In the wake of the assessment's release, Colorado leaders convened a Juvenile Defense Attorney Interim Committee in the Summer of 2014 to study the issues raised in the assessment and make recommendations for needed reform. The committee opened its proceedings with a presentation from assessment author and NJDC executive director Patricia Puritz. The committee heard information about the phases of the assessment process and the report's findings, which raised concerns about: inadequate protections in place to limit waivers of counsel; group advisements; shackling of youth in the courtroom; the process for determining indigence; a lack of statewide standards for the early and timely appointment of counsel; and limited training and professional standards for practice in the juvenile justice community. The full content of the committee proceedings is available via audio recordings on the Colorado Legislature's website.
Testimony on the Solitary Confinement of Youth
In June 2012, the Senate Judiciary Committee's Subcommittee on the Constitution, Civil Rights, and Human Rights held its first hearing on reassessing solitary confinement. Among those who submitted testimony were the Center for Children's Law and Policy (CCLP) and the Juvenile Justice Initiative (JJI). CCLP's testimony addressed three issues: (1) reasons solitary confinement is particularly harmful to children, (2) reasons some juvenile facility administrators and staff rely heavily on solitary confinement, while others use it rarely or do not use it at all, and (3) the most effective ways of reducing and eliminating the inappropriate use of solitary confinement of children. JJI's testimony discussed how solitary confinement of youth violates international law and why training staff is necessary to ending this practice.
Letters of Support
As a policy and educational tool, NJDC will write letters to legislators, courts, and other regulatory authorities to educate them about the potential gains or pitfalls of potential reform efforts they might be considering. Some examples of such letters include:
Letter from NJDC to the Indiana Supreme Court Supporting a Rule Amendment
NJDC, in an April 2013 letter on Indiana's proposed rule amendment, urged the Court to adopt the amendment, highlighting the ways in which the Rule strengthens and clarifies the language related to appointment of counsel and provides for consultation with an attorney before a juvenile may waive his or her right to an attorney. The amendment follows the recent trend of states protecting the due process rights of youth. Through the amendment, Indiana law remains consistent with youth's Constitutional right to counsel, as mandated by In re Gault and its progeny.
Letter from NJDC to Senate Subcommittee Regarding Appropriations Bill
NJDC's May 2013 letter to the Commerce, Justice, Science, and Related Agencies Subcommittee of the Senate Committee on Appropriations outlined the benefits including adequate funding for juvenile justice and delinquency prevention programs in the Fiscal Year 2014 Commerce, Justice, Science Appropriations bill would provide. The letter also pointed out that, should the Subcommittee work to restore some of the funding that had been lost over the past decade and to allocate money for community-based violence prevention following the tragic school shooting in Newtown, Connecticut, community safety would benefit.
Letter from NJDC to Ohio Supreme Court in Support of Juvenile Rule 3
NJDC's November 2011 letter to the Ohio Supreme Court expressed strong support for Juvenile Rule 3, which safeguards youth's right to counsel by permitting youth to waive counsel only after consulting with an attorney. The letter discusses due process and ethical considerations that require children to receive access to counsel, as well as the adolescent development and brain research that informs the need for counsel.
Letter from NJDC to Department of Justice Regarding the Creating Common Ground Proposal
In a May 2011 letter to the Department of Justice's Office on Violence against Women (OVW), NJDC addressed the Creating Common Ground proposal, which would develop and provide technical assistance to OVW grantees addressing the issue of teen dating violence. The letter highlighted the fact that teen dating violence was a relatively young movement and stresses the need to develop a common understanding of the issues. The proposal ensured that OVW grantees could work most effectively and responsibly to respond to the interests of both victims and offenders.
Letter from NJDC to the U.S. Senate Regarding the State Court Interpreter Grant Program Act
In a July 2009 letter to the Senate Majority and Minority Leaders, NJDC weighed in on the State Court Interpreters Grant Program Act, which would create a grant program for state court interpreter services throughout the country. The letter stressed the legal necessity of interpreter services in the adjudicatory process and the inability of many courts to carry the costs of these services.
Administrative Policies
Courts can make sweeping changes to practices and procedures by issuing administrative policies that judges within that court system must follow.  Educating Chief Judges about needed reform that promotes due process and fair treatment of children can be a powerful force for change.
Ending Indiscriminate Juvenile Shackling in Boulder, Colorado
In the spring of 2014, Boulder became the first judicial district in Colorado to officially end the indiscriminate shackling of children in juvenile delinquency court. A year previously, Boulder County had established a Juvenile Restraint Reform Task Force, consisting of key players from the juvenile justice system, such as representatives from the court, the public defender's office, and the district attorney's office. The goal of the Task Force was to draft criteria for juvenile restraint reform, to be adopted by the Boulder Juvenile Court. Following the Task Force's work, an unofficial policy went into effect in January 2014, and the official Juvenile Restraint Reform Initiative signing ceremony took place three months later.
Ending Indiscriminate Juvenile Shackling in Massachusetts
Defenders in Massachusetts first worked to end shackling by filing motions in court on behalf of individual clients. With the help of NJDC and resources from colleagues in Florida, defenders and stakeholders in Massachusetts then initiated a targeted statewide campaign to end automatic shackling of youth. Leading juvenile defense attorneys approached the head juvenile court justice with language from Florida's anti-shackling court rule, along with affidavits from child development experts that advocates in Florida had used to end the practice there. In February 2010, the head juvenile court judge revised the Court Officers Policy & Procedure Manual of the Trial Court of the Commonwealth to ban indiscriminate youth shackling. The revised Manual sets forth the new policy and the factors for judges to consider in deciding whether to shackle a child in court.
Other Policy Initiatives
Establishing policy initiatives is evidence of the juvenile defense community's creativity and resourcefulness. Policy initiatives targeted at specific issues or areas of practice allows the juvenile defense community to effectuate reform across a broad range of practice and policy issues.
Lesbian, Gay, Bisexual, and Transgender (LGBT) Youth
NJDC has partnered with Legal Services for Children and the National Center for Lesbian Rights to create the Equity Project, an initiative aimed at ensuring that LGBT youth in the juvenile court system are treated with dignity, respect and fairness. The Equity Project addresses the entire delinquency process, ranging from arrest through adjudication and post-disposition. Core activities of the Equity Project include collecting information, reporting findings, and disseminating recommendations to juvenile court participants.
Pacific Juvenile Defender Center Appellate Committee
The Pacific Juvenile Defender Center (PJDC) created an appellate committee that coordinates juvenile appellate work across the state, a state-wide juvenile appellate listserv, and developed a set of FAQs on juvenile delinquency appeals for defenders to increase coordination between appellate counsel and front-line juvenile defenders. The appellate committee delivers trainings across the state on a variety of juvenile appellate matters and disseminates sample motions and forms as part of those trainings.
Louisiana Appellate Project
The Louisiana Appellate Project (LAP) was formed in 1996 as the first program established by the Louisiana Indigent Defender Board (now Louisiana Public Defender Board). The LAP provides appellate counsel for indigent clients in all non-capital felony appeals, including felony-grade adjudications for juveniles, in all Louisiana districts. Each public defender office in Louisiana contracts with the LAP to provide these services at no extra cost to the district. The LAP currently employs two attorneys specializing in juvenile appeals who have honed their expertise in this area. In addition, the Louisiana Center for Children's Rights (LCCR)—which operates as a stand-alone juvenile defense law office with cases throughout the state—has a robust appellate practice, particularly with interloc­utory appeals. In 2013 alone the office took 54 inter­locutory appeals to the Circuit Court.