Oregon Assessment
Released on September 8, 2020, the Oregon Assessment is based on interviews, court observations, and research conducted by a team of experts who analyzed Oregon's juvenile defense systems and delinquency courts over the course of a year.
The assessment found that while Oregon's public defense system has adopted minimum qualifications and best practices for those representing young people in delinquency cases, it does not provide oversight or enforcement. As such, the system does not ensure quality representation for young people across the state.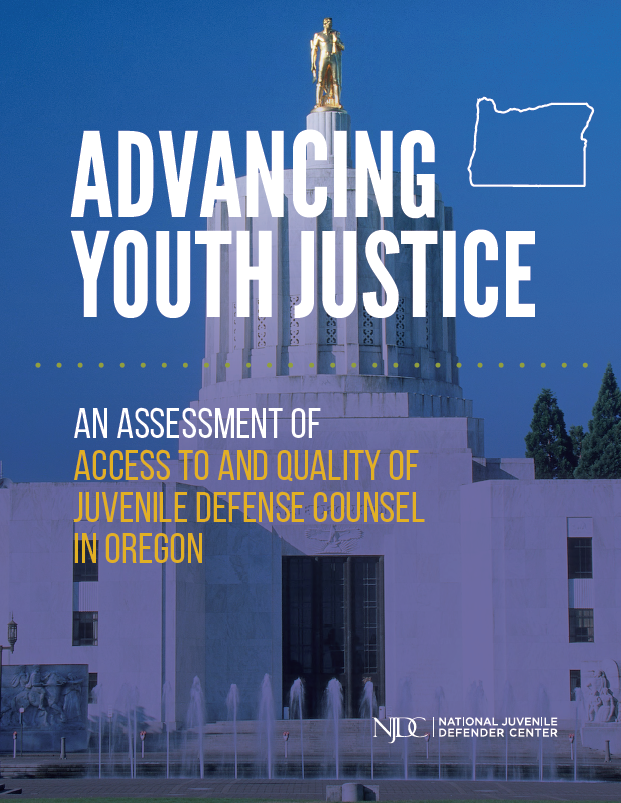 Some of the key findings of the assessment include:
Children's right to counsel is not uniformly realized across the state. In some jurisdictions, children are presumed indigent and automatically provided counsel, while in others, in-depth analysis of the youth's or their family's ability to pay delays and hinders the appointment of counsel.
In many counties, the juvenile court has reduced or even eliminated the imposition of fees, fines, and costs for young people, removing significant financial hurdles that often result from system involvement. But this was not consistent across the counties visited.
Oregon is one of just eight states that has no uniform, comprehensive guidance for procedure in delinquency proceedings. Uniform mandates for court procedure can help reduce the risk of geographic inequities in justice that thrive when local policies and court procedure vary from county to county.
Access to justice and fairness can too often be contingent on where a child lives or in which courtroom their case proceeds.
Among other recommendations, the report encourages Oregon to:
Enforce mandatory state and national performance standards.
Support specialization in juvenile delinquency defense.
Ensure all youth are protected from uninformed waiver of counsel.
Eliminate all fees and costs related to juvenile court, including those associated with access to a publicly funded juvenile defender.
Ensure juvenile defenders are appointed to provide active advocacy for youth at every stage of the juvenile legal system, including through post-disposition proceedings and appeals.
Eliminate existing racial disparities in the juvenile court system.
Enact rules of procedure for delinquency matters.
Read the press release.
Fees & Costs in Oregon's Juvenile Courts Create Barriers to Young People's Access to Counsel and Future Opportunities