North Carolina Assessment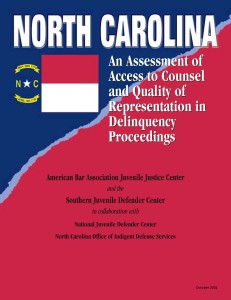 Summaries and Press Releases:
American Bar Association Press Release
North Carolina Office of Indigent Defense Services Press Release
News Coverage:
NBC 17 News At 5:00
WNCN-TV CH 17 (NBC) Raleigh/Durham
10/27/2003 5:00 – 5:30 am
[cc] 10.39 A new report out this morning says court appointed attorneys in North Carolina, in general, do not aggressively defend the cases of poor juvenile suspects. The report says 75-percent of the attorneys who represent indigent juveniles are private attorneys drafted into the job. The American Bar Association recommends North Carolina establish a statewide juvenile public defender's office to combat the problem.
News Channel 3 This Morning
WTKR-TV CH 3 (CBS) Norfolk/Portsmouth/Newport News
10/27/2003 6:00 – 7:00 am
[cc] 40.41 A new report shows lawyers do not aggressively pursue cases on behalf of their young clients. The American Bar Association and the Southern Juvenile Defender are recommending the state develop a statewide juvenile public defender's office…
News Channel 3 This Morning
WTKR-TV CH 3 (CBS) Norfolk/Portsmouth/Newport News
10/27/2003 5:30 – 6:00 am
[cc] 10.49 A new report shows lawyers do not aggressively pursue cases on behalf of their young clients. The American Bar Association and the Southern Juvenile Defender are recommending the state develop a statewide juvenile public defender's office…