Kansas Assessment
Released on December 2, 2020, the Kansas Assessment is based on interviews, court observations, and research conducted by a team of experts who analyzed Kansas' juvenile defense systems and delinquency courts over the course of a year.
The assessment found that while Kansas has succeeded in ensuring that nearly every youth who faces charges in delinquency court is represented by counsel at most stages of the proceedings, the quality of defense young people receive far too often does not fulfill constitutional obligations, meet national standards, or satisfy professional responsibility requirements.
Some of the key findings of the assessment include: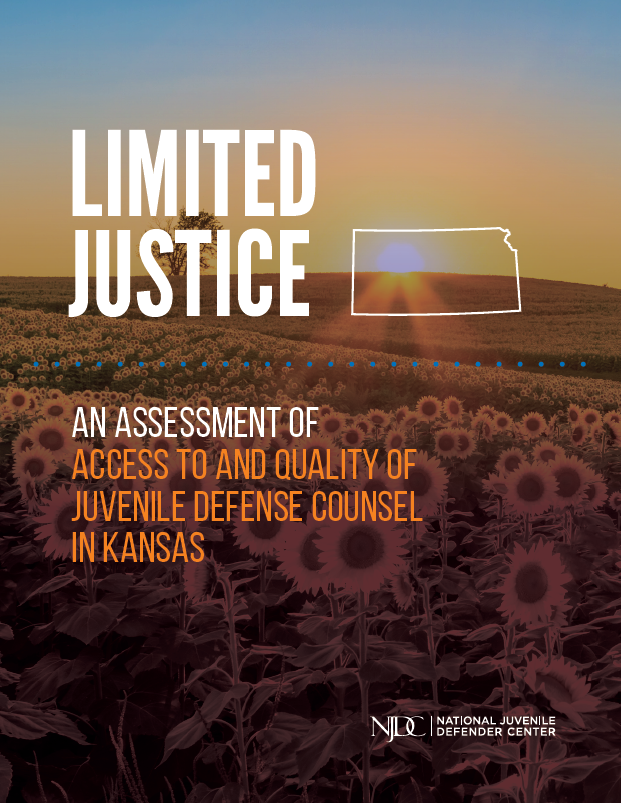 Kansas juvenile defenders do not have the structure, training, support, or compensation needed to develop an expertise in juvenile defense and provide Kansas youth with the representation to which they are entitled and the Constitution demands.
Far too often, juvenile defense attorneys engage in the plea process with little to no true investigation or advocacy to challenge the allegations. In some areas, the defense contracting system may even incentivize expediting pleas and a lack of strong defense advocacy.
The innumerable fines, fees, and costs levied on young people and families by the juvenile court system interfere with youths' right to counsel and access to diversion, and burden youth and families with insurmountable debt that follows them long after the young person's involvement in the juvenile legal system has ended.
Despite the recognized harm and trauma caused by shackling and the nationwide movement toward limiting or eliminating the shackling of youth, Kansas juvenile courts continue to indiscriminately shackle young people, and defenders largely fail to recognize the harm or advocate to unshackle their young clients.
Although racial disparities in Kansas' juvenile legal system exceed national rates, juvenile defenders do little to challenge the biases driving these disparities and rarely raise racial justice arguments in their defense of youth.
Among other recommendations, the report encourages Kansas to:
Implement a strong, specialized system of juvenile defense.
Institute statewide standards and oversight of juvenile defenders and of county-level juvenile defense delivery systems.
Establish a juvenile defense system that allows defenders to become specialists in juvenile delinquency defense.
Ensure youth have access to counsel at all stages of the juvenile court process, including for post-disposition and appeals.
Eliminate fines, fees, and costs associated with juvenile court involvement.
Eliminate the indiscriminate shackling of youth in juvenile court.
Eliminate racial disparities in the juvenile court system.
Read the press release.
Fees and Costs in Kansas' Juvenile Courts Create Barriers to Young People's Access to Counsel and Future Opportunities

Collateral Consequences for Youth in Kansas
As youth move forward with life after being involved in the juvenile court system, this summary provides information about what obstacles may lie ahead and how to prepare.