Colorado Assessment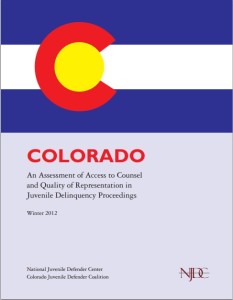 Summaries and Press Releases:
NJDC & Colorado Juvenile Defender Center Press Release
Legislative Follow-Up:
Following NJDC's Assessment, the State Legislature established a legislative study committee to investigate issues raised in the assessment.  Following the Interim Committee's term, it proposed the following two pieces of legislation that changed the way the juveniles had access to counsel and to defense social workers across the state.
This 2014 Colorado law on defense counsel for juvenile offenders guarantees the appointment of juvenile defense counsel at detention hearings (something that had been sorely lacking in many parts of the state), ensures that guardians ad litem cannot serve as defense counsel, and clarifies a juvenile's right to counsel throughout the case, among other changes.
This Act, signed into law on May 14, 2014, requires the state public defender to hire social workers to assist in the defense of juvenile defendants, and allocates money to accomplish this.
Learn more about the Colorado Juvenile Defense Attorney Interim Committee established in the wake of the Assessment's release.
Read the Interim Committee's Final Report, published in December 2013.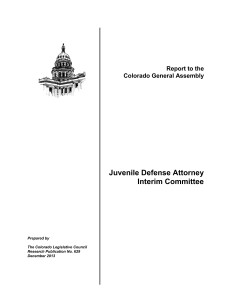 News Coverage: