Arizona Assessment
Released on September 25, 2018, Arizona: Bringing Gault Home, An Assessment of Access to and Quality of Juvenile Defense Counsel, is based on interviews, court observations, and research conducted by a team of expert investigators who analyzed Arizona's juvenile courts and juvenile defense systems. (Click here to view).
Gault, the U.S. Supreme Court decision affirming children's constitutional right to due process, originated in Gila County, Arizona. 
NJDC's assessment found that while some Arizona counties have responded to the mandates of Gault by ensuring children are represented by counsel throughout their court involvement, others continue to operate in ways nearly unchanged from the time prior to Gault, with little to no consideration of due process.
Bringing Gault Home recommends that:
Arizona abolish all fees and costs associated with access to a publicly funded juvenile defender and all other costs related to juvenile court.
Importantly, the assessment found no evidence that Arizona counties experience any significant financial gain by imposing costs and fees in juvenile court.
"Everything in juvenile court has a fee—
for the attorney, probation, shelter care, detention, treatment, and other ordered services."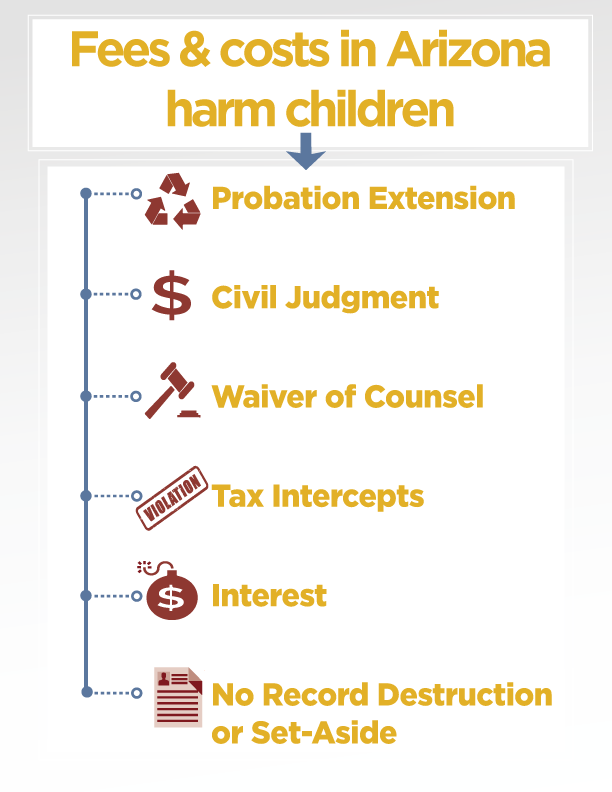 Among other key improvements, Bringing Gault Home also recommends:
Automatically appointing counsel to all youth,

Giving youth an opportunity to consult with a lawyer prior to the court considering accepting any waiver of counsel,

Appointing counsel for all youth prior to their first appearance before a judge and ensuring access to counsel for youth post-disposition,

Improving the collection and reportability of data,

Implementing policies and practices to address significant racial disparities, and

Ensuring youth receive legal representation that is individualized and rooted in adolescent development.