Juvenile Defense Standards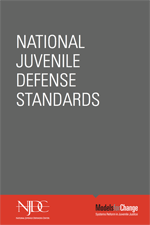 Specialization and high-quality training in juvenile defense cannot flourish without concerted policy action aimed at counteracting the pervasive misconception among many justice stakeholders that juvenile court is of little importance and a training ground in which young lawyers "learn" on the backs of children before moving on to representing adults. Among juvenile defense reformers, there is a consensus that juvenile-specific practice standards to guide and support the field are critical. Unfortunately, these exist in only a minority of jurisdictions. It is important for juvenile defense reformers, and the larger criminal defense community, to convene groups to promulgate and adopt standards tailored for practice at the state level.  NJDC encourages state and local jurisdictions to use the National Juvenile Defense Standards as a guide. NJDC is also committed to providing whatever technical assistance or advice jurisdictions may want in the process of drafting state-based standards.
Standards for juvenile defenders are only one part of the solution, however.  Juvenile-specific standards should also be developed for judges, prosecutors, and probation officers, as each stakeholder group benefit from developing specialized standards of practice to guide and support juvenile justice—and our nation's children. Efforts to professionalize and advance the field overall ultimately will benefit the young people the system aims to serve.
Attorney General of the United States, in the Statement of Interest issued in N.P. v. State of Georgia, (Mar. 15, 2015), has taken an exceedingly clear stance on how access to counsel for children, requires access to defense counsel that is qualified to represent children.  The nation's top law enforcement official reasoned, "Indeed, the unique qualities of youth demand special training, experience and skill for their advocates." The path toward best practices in juvenile defense requires fidelity to the principles of due process and the role of counsel as expressed in the Statement of Interest in N.P. v. Georgia, as well as the white paper on Role of Juvenile Defense Counsel in Delinquency Court, and the National Juvenile Defense Standards. The principles set forth in these documents must be implemented through ongoing specialized training and policy initiatives that foster high quality juvenile defense.
Over 20 jurisdictions that currently have some level of professional standards specific to defense attorneys representing juvenile clients are:
(Last Updated August, 2017)