NJDC Newsletter May 2020
---
Special Edition: Gault Anniversary
Gault Anniversary & COVID-19 Pandemic Highlight Critical Need for Juvenile Defenders
"No single action holds more potential for achieving procedural justice for the child in the juvenile court than the provision of counsel."
Fifty-three years ago, the United States Supreme Court released its landmark decision in
In re Gault
, affirming that children "require the guiding hand of counsel at every step in the proceedings against [them]." NJDC has been hosting an event around the May 15
Gault
anniversary for the past few years, both to celebrate the legacy of the
Gault
decision and to bring attention to the need for states and courts to make the rights prescribed in
Gault
a reality for every young person who faces the "awesome prospect" of juvenile court involvement. This year's anniversary, however, is so very, unexpectedly different.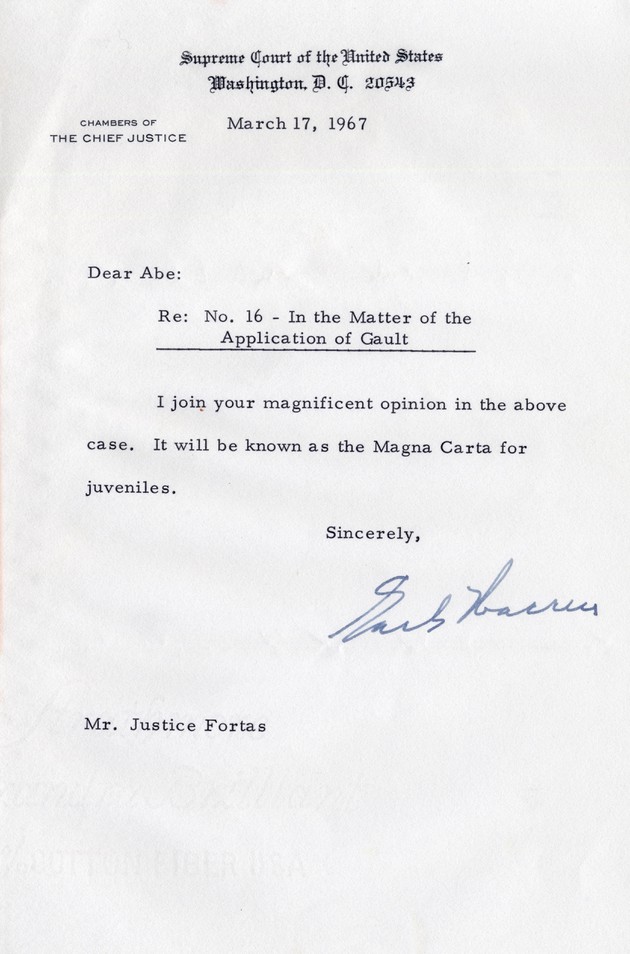 This year, a global public health crisis has upended life as we know it. And just as the COVID-19 pandemic has exposed existing fault lines in our country's healthcare system and economic safety net and highlighted in deeply painful ways how systemic racism infiltrates every aspect of our society, so too has it brought to light the unnecessarily vast reach of the juvenile legal system, the ways system involvement puts youth at greater risk of harm, and the absolutely critical need for every youth to be represented by a trained, specialized juvenile defender throughout the entirety of their involvement with the juvenile legal system.
For NJDC's team, this year's
Gault
anniversary marks two months since our office moved to remote operations. The day after we went remote, sparked by requests from front-line juvenile defenders, we put out requests for expert affidavits that could support defenders' efforts to get young people released from detention, commitment, and other congregate-care facilities. That request was a seed that has grown into
a bank of more than 100 resources
for defenders and advocates to use in their fight to keep young people safe and healthy and reunite them with their families during this pandemic.
And what amazing work our nationwide community of juvenile defenders has done and continues to do.
Defenders from California to Pennsylvania to Texas to New York have filed extraordinary writs in juvenile courts and state supreme courts, urging systemic, statewide responses to protect incarcerated youth during the pandemic. And while courts have largely been unwilling to act quickly and broadly, defenders have carried on, filing thousands of individual release motions, working with families and probation staff to ensure young people have release plans and support, and putting the health and safety of their clients ahead of their own.
Thanks to the selfless, tireless work of juvenile defenders during the pandemic, thousands of young people have been released from facilities or prevented from entering them. And those releases tell another story about the impact of the juvenile legal system: in Maryland, where defenders ensured the release of more than 200 youth, racial disparities in the incarcerated youth population have fallen by more than 20 percentage points.
Defenders' work has kept not only young people safer and healthier, but also their families and communities and the staff and families of detention facilities and courts across the country. Juvenile defenders have been first responders for youth justice during this crisis.
This year, as we celebrate the
Gault
anniversary, we're reflecting on aspects of the juvenile legal system the COVID-19 pandemic has starkly highlighted–the unnecessarily high numbers of youth removed from their homes and placed in facilities, the racial disparities that permeate the system, the increased risk of harms youth face when that system intervenes–and more than ever, we are convinced that one of the most critical keys to fixing the flaws of the juvenile legal system lies in providing every young person with a specialized juvenile defender who has the training, resources, and support they need to advocate zealously and ensure their young client's voice is heard.
On behalf of the entire NJDC team, thank you for the extraordinary work you are doing.
Hoping this finds you and your loved ones safe and healthy,
Mary Ann Scali
---
Public & Defender-Only Resources
If you're a practicing juvenile defender or advocate, be sure to sign up for access to NJDC's defender-only resources on our
Defender App
and on the
Racial Justice Toolkit
we've built in partnership with Georgetown Law's Juvenile Justice Initiative. Both sites also offer numerous publicly accessible resources.
Do you have ideas for ways we can improve these resources? Let us know at inquiries@njdc.info (Defender App) or inquiries@defendracialjustice.org (Racial Justice Toolkit).
---
Support Our Work
If you're able, please
donate
to support NJDC's work providing the resources defenders need to keep young people safe and healthy.
---
We're not the only ones dressing up our pets in NJDC gear during stay-at-home orders, are we?