NJDC Newsletter December 2019
---
National News and Resources
NJDC & Georgetown Law Juvenile Justice Initiative Launch Racial Justice Toolkit
In partnership with Georgetown Law's Juvenile Justice Initiative, the National Juvenile Defender Center is thrilled to announce the launch of Racial Justice for Youth: A Toolkit for Defenders. The Toolkit provides juvenile defenders with training, resources, and information to fight the over-policing, over-criminalization, and school exclusion of youth of color.
Please take time to explore the Toolkit, and share it with your communities to ensure juvenile defenders include racial justice advocacy as an integral and essential component of their youth advocacy.


Four New Resources from NJDC

In October 2019, NJDC released four new resources to support juvenile defenders and advocates.



Eliminating Shackling in Juvenile Court: Continuing the Momentum
Between 2014 and 2018, 18 states implemented reforms to their policies on shackling children in juvenile court. As of July 2019, 32 states (including the District of Columbia) have enacted legal limitations on the use of restraints in juvenile court. NJDC urges the 19 states that still allow the automatic, indiscriminate shackling of young people when they appear in juvenile court to create a presumption against the automatic use of restraints.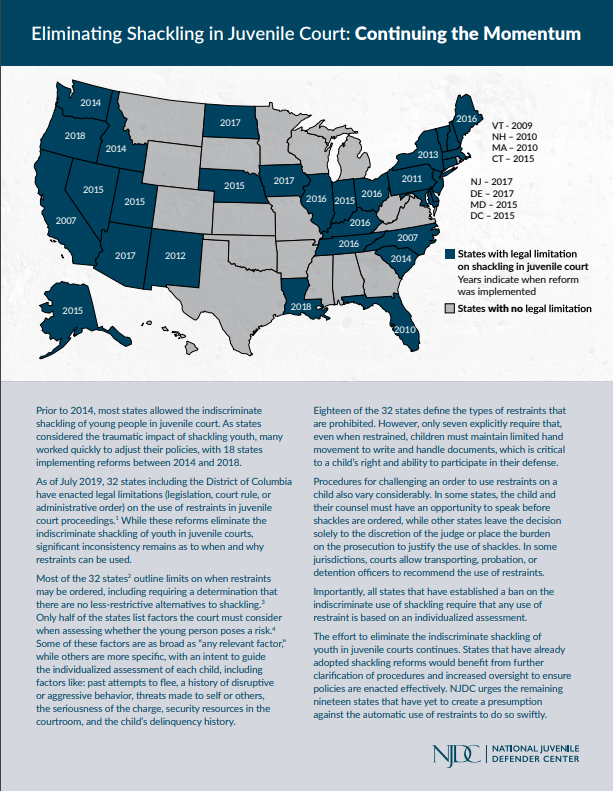 The Criminalization of Childhood
In 29 states, there is no minimum age of prosecution, meaning it is legal to prosecute a five-year-old in juvenile court. Only two states have set the minimum age of prosecution at 12 years of age, one state has a minimum age of 11, 13 states have set ten as the minimum age of prosecution, and five states' minimum ages range from six to eight years of age. Commonsense knowledge of child development and international standards compel the removal of younger children from the juvenile legal system. NJDC urges states to set the minimum age of prosecution at 14 years of age.
Juvenile Facilities Checklist for Defenders: Advocating for the Safety and Well-Being of Transgender, Gender Nonconforming, and Intersex Young People
Released in partnership with the National Center for Lesbian Rights, this is a companion piece to NJDC's previously released Juvenile Facilities Checklist for Defenders: Advocating for the Safety and Well-Being of Young People.
Recognizing that TGNCI young people are vulnerable to the same harms as all young people in juvenile facilities and that NJDC's original checklist is equally relevant to their safety, health and well-being, this piece provides additional information about the pervasive bias that subjects TGNCI youth to increased risk of harm in facilities.
Special Caution Required: The Realities of Youth Interrogations
In a study of youth who self-reported confessing, 66% reported having more than one officer present, while only 7% reported having a lawyer present. The right to counsel at interrogation is critical.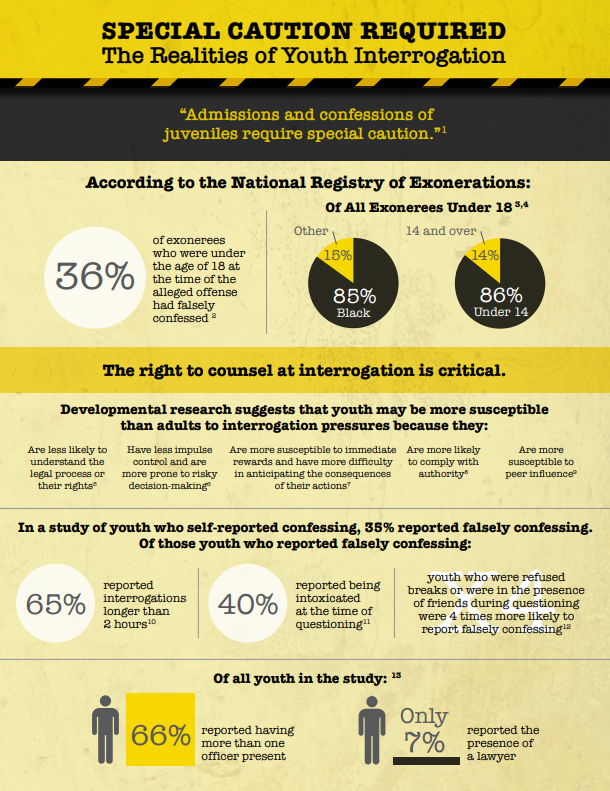 ---
News from the States
Connecticut Launches Pilot Program to Provide Counsel to Youth at Interrogation
The Connecticut Division of Public Defender Services (DPDS) has launched a pilot program that provides immediate access to an attorney to any young person under the age of 18 who is questioned or interrogated by law enforcement in the city of Hartford. The Early Public Defense Team is available 24/7 to provide phone consultation and/or in-person representation.


DPDS has partnered with Central Connecticut State University to track the effectiveness of the program in meeting its goals: to preserve youth rights, increase opportunities for diversion, reduce recidivism, and improve case outcomes.


Missouri State Public Defender Office Re-Opens Children's Defense Team Offices
Thanks to funding from the state legislature, the Missouri State Public Defender Office has been able to re-open its children's defense team units in St. Louis County and Jackson County.


State Representative Ingrid Burnett, who advocated for state funding to support re-opening the children's defense units, recognized both the need and the value of providing young people with lawyers who specialize in juvenile law: "For the kids, they don't have any public defenders who are experienced in juvenile law. … Each unit will only have to divert 26 children away from state prison in order to generate enough savings to pay for one of these units. These units will serve hundreds of children annually around the state."


Congratulations to all the juvenile defenders and advocates at MSPD and across the state of Missouri who made this happen!


Michigan Raises the Age of Juvenile Court Jurisdiction
On October 31, 2019, the governor of Michigan signed into law legislation that will raise the age of juvenile court jurisdiction to include 17-year-olds. The legislation will go into effect in October 2021.


Congratulations to the Michigan advocates whose years-long effort to raise the age of juvenile court jurisdiction has succeeded! And a special thank-you to Players Coalition members Anquan Boldin and Devin and Jason McCourty, whose public support helped push the effort across the finish line.
Three states (Georgia, Texas, and Wisconsin) continue to treat all 17-year-olds as adults in criminal court.



Kansas Juvenile Defender Ensures Defenders' Voices Heard
Just four days after The Kansas City Star published an op-ed from a Kansas judge bemoaning the state's "seemingly toothless juvenile justice system," Wichita juvenile defender Trent Wetta responded with a piece that provided legislative history on the state's recent reforms, data from the state's court system, and adolescent brain development science to support the work of the Kansas Juvenile Justice Workgroup.


Trent wrote: "Fearmongering about crime has long been the rationale behind oppressive adult sentences. Extending that mind-set to children is immoral. … Giving judges the ability to imprison children as young as 10 for their inability to complete the terms of probation may give the juvenile justice system teeth, but those teeth will only further injure the children in the system."


Trent's op-ed is a good reminder that as juvenile defenders, we are responsible for advocating for young people not just in the courtroom, but also with the public and in policy efforts. If you are interested in the data behind Trent's piece, please see the Kansas Juvenile Justice Oversight Committee's 2019 Annual Report.
---
Wear Your Commitment to Defending Children!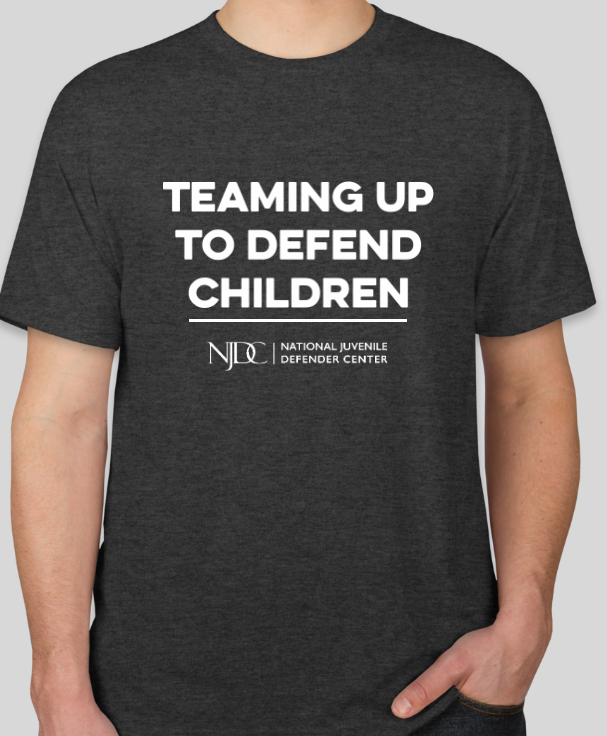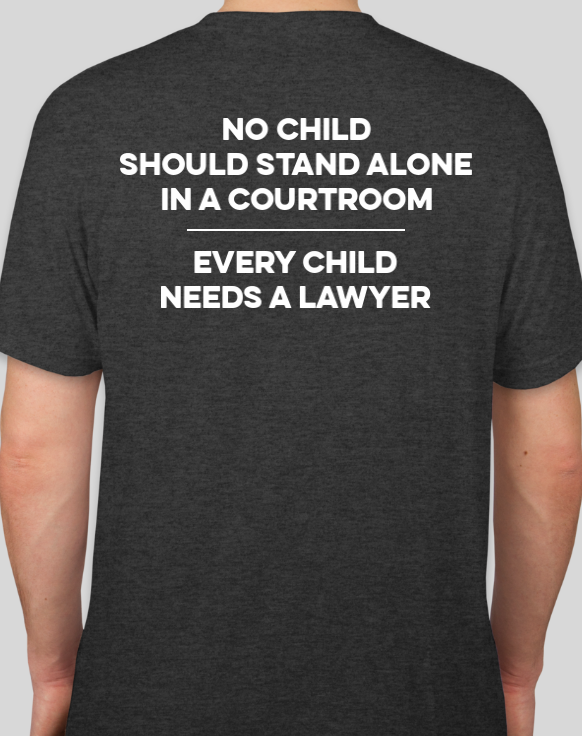 For a donation of $20 or more, we'll send you an NJDC t-shirt! Simply make your donation here, then forward your donation receipt to Eva Chaves (echaves@njdc.info) with your shirt size and address.
Thank you for all you to do defend children!