District of Columbia Assessment
Released on June 7, 2018, the District of Columbia Assessment is based on interviews, observation, and research conducted by a team of expert investigators who analyzed DC's Family Court and juvenile defense systems throughout 2017.  In many respects, the District of Columbia is an example for other jurisdictions across the country to follow as to best practices in juvenile defense. But even in a system as well-funded and functional as DC's there are challenges in structure and quality that need improvement. This Assessment outlines the investigative team's findings and provides Core Recommendations for improving DC's juvenile defense systems, along with implementation strategies specific stakeholder groups can undertake in order to address shortcomings.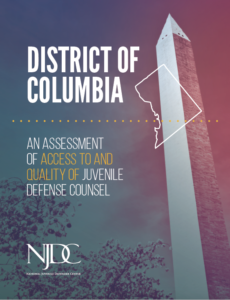 Among the 14 Core Recommendations are:
Increasing organizational, monitoring, and leadership capabilities of the CJA Juvenile Panel, which provides representation to the largest percentage of youth in DC's delinquency court;
Strengthen post-disposition defense practice;
Establish a comprehensive juvenile defense data collection system;
Eliminate the indiscriminate shackling of children in DC courts;
Require system accountability to reduce racial and ethnic bias and disparities; and
Increase confidentiality protections.