Advocacy Highlight: Nicole Pittman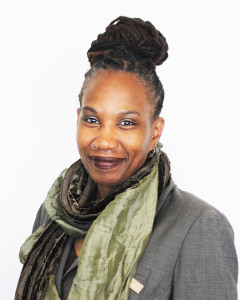 It is hard to think of anyone who has done more on a national level to protect youth accused of sex crimes than Nicole Pittman. As a national expert on juvenile sex offender registries and their harmful impact on youth and communities, Nicole's work has been invaluable to the juvenile defense community.
Becoming a public defender and working with kids was not in Nicole Pittman's plans when she began law school at Tulane University. She was studying sports law with the intention of becoming an agent and working with the NFL. But life is what happens when you're making plans and while satisfying her required pro bono hours with Project for Older Prisoners, a group that sought parole or pardon for elderly prisoners to ease prison overcrowding, Nicole's focus changed. Spending time at Louisiana's State Penitentiary at Angola, Nicole was inspired by her supervisor who demonstrated passion for her work and who "went to bat" for inmates who were forgotten in their cells. Nicole discovered the comfort of helping others.
After graduating from law school, Nicole became a public defender in New Orleans Juvenile and Family Court and become interested in the child psychology of how children think differently than adults. She met many people who were dedicated to keeping kids out of the system and improving outcomes, most notably Judge Ernestine Gray, who taught her "to never give up on a child." Eventually, Nicole gravitated toward the cases no one wanted – child sex offenders. She was now firmly on the path that would lead her to become a specialist in juvenile sex offenses and their companion registries.
When Nicole was working as a public defender, first in New Orleans and then in Philadelphia, she soon realized that other defenders not only didn't want to take sex cases but dreaded talking about them. It was that recognition of the fear around how to defend sex cases that led to her attempts to make it easier for defenders to approach the subject.
A number of events coincided with Nicole's "aha" moment. She was taking more juvenile sex cases in Philly, the Adam Walsh Act passed, NJDC started a working group to research the implications of juvenile sex cases, and she heard Franklin Zimring, the author of An American Travesty: Legal Responses to Adolescent Sex Offending, speak at NJDC's summit.
With support from her bosses, Chief Defender Ellen Greenlee and Chief of the Juvenile Unit, Bob Listenbee, Nicole was able to move away from individual representation. She helped develop a model defense unit in Philadelphia for representation of youth charged with sexual assault called the Juvenile Special Case Section. She began researching the impact of the sex offender registry on child offenders, and published, A Snapshot of Juvenile Sex offender Registration and Notification Laws: A Survey of the United States, a handbook on how registry laws vary from state to state. Nicole also provided expert testimony questioning the wisdom of placing youth on sex offender registries to 37 state legislatures and Congress and presented widely to juvenile advocates across the country on the issues affecting youth charged with sex offenses.
When she received a fellowship from the Soros Foundation to work with Human Rights Watch and extend her research nationwide, Nicole was able to visit 20 states and conducted more than 500 interviews of people who had been placed on registries as a child. She describes what she uncovered as "shocking."  The harms of registration were so much worse than what she previously knew. Families were being ripped apart. And the range of crimes that led to mandatory sex offender registration was staggering, anything from public urination to rape. In her words, "It took my breath away."
In May of 2014, Nicole received a Stoneleigh Fellowship with National Council on Crime & Delinquency (NCCD) a three-year fellowship project to dismantle the practice of placing children on sex offender registries in the U.S. At NCCD Nicole works with a range of disciplines, and a diverse group of individuals to help create an alternative scheme to handle child-on-child sexual harm in a manner that attends to the needs of victims, responsible youth, their families/guardians, and communities.
A lot of progress has been made over the past nine years since Nicole has been advocating for reform of juvenile sex laws. The Pennsylvania Supreme Court ruled sex offender registration unconstitutional for youth, and efforts are underway for Congress to amend the SORNA Title of the Adam Walsh Child Protection and Safety Act of 2006 to allow states to exclude adjudicated youth from sex offender registries and community notification practices. Just as importantly, foundations are more interested in funding reforms. The John D. and Catherine T. MacArthur Foundation listed the elimination of juvenile sex offender registries as a top five priority. Nicole credits NJDC with helping to raise the level of awareness, generating support for the work, and for providing public defenders with a greater arsenal of resources to beat back registration.
But she isn't finished yet. Always a defender at heart, Nicole remains passionate about empowering the juvenile defense community with the strategies and resources they need to keep kids off the registries by providing the best defense possible. With a little more than 2 years left on her current Fellowship, Nicole is looking to end the practice of placing youth on sex offender registries in the U.S. and start work on a project to end child sexual violence.
Nicole Pittman is the Stoneleigh Fellow & Senior Program Specialist at the National Council on Crime and Delinquency in Oakland.
Nicole is one of many great leaders that makes the juvenile defense community strong. Read about other juvenile defense trailblazers that NJDC has highlighted.
– February 2015