Advocacy Highlight: Jill Beeler-Andrews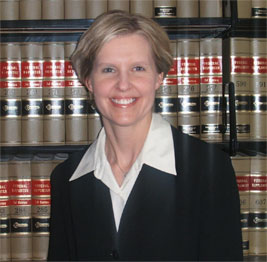 Jill Beeler-Andrews, along with her entire team at the Juvenile Division of the Office of the Ohio Public Defender is a force to be reckoned with. In addition to Jill, who serves as Chief Counsel, the Juvenile Division is comprised of seven specialized attorneys, two integral support staff, law clerks, and student-volunteers who are dedicated to ensuring that the constitutional rights of children are fully realized and protected beyond the duration of confinement through post-disposition representation and appellate advocacy for children in Ohio's juvenile and adult criminal justice systems.
Additionally, Jill and her team engage in juvenile justice system reform efforts through statewide and national collaborations, and have achieved important reforms through this direct policy work as well as high level, appellate advocacy. Notably, the Juvenile Division was instrumental in the passage of Rule 3 in the Ohio Rules of Juvenile Procedure, which specifically lists bindover (transfer) proceedings, Serious Youthful Offender (SYO) proceedings, and occurrences of conflict or disagreement with parent or guardian as instances in which a child cannot waive his or her right to counsel. Further, Rule 3 requires that a child consult with an attorney prior to waiver in all felony cases, and that the juvenile court to inform a child of the disadvantages of self-representation.
Prior to Ohio's implementation of the Adam Walsh Act (AWA), Jill testified against Ohio Senate Bill 10, which implemented the AWA in Ohio, but was amended to limit public registration for juvenile offenders, except those who received a SYO, or blended sentence. Upon implementation, the Division began to litigate public registration for SYO youth, among other issues. In April 2012, the Supreme Court of Ohio issued a favorable opinion in In re C.P., voiding as unconstitutional provisions of the Adam Walsh Act (AWA) that imposed automatic lifelong registration and community notification requirements on juveniles classified as Public Registry-Qualified Juvenile Offender Registrants (PRQJOR's). The Court held that automatically applying public notification requirements to juveniles under the jurisdiction of the juvenile court, without opportunity for judicial review, ignores the differences between youth and adults, and commented that the requirements of the AWA "define [the youth's] adult life before it has a chance to truly begin."
Working with a coalition of child advocates, Jill's team also helped to ensure juvenile justice reforms were included in three Ohio sentencing and collateral consequences reform bills, including a reverse transfer provision; a provision which lowered the mandatory sentence for youth found complicit in gun related offenses; a provision expanding judicial release opportunities from DYS; a new juvenile specific competency standard; a provision limiting the number of offenses that cannot be sealed or expunged, reduces the amount of time a person must wait to apply for sealing, and prohibits a filing fee in sealing applications; a provision to increase the amount of credit for time served a youth is entitled to if committed to DYS; and a provision that reduces the number of children that can be held in an adult jail, and that when a child is held in a jail, requires that their records remain confidential.
Most recently, in 2013, the Juvenile Division obtained statutory access language that allows them to investigate conditions of confinement issues for youth in Ohio's DYS. This past year, the Juvenile Division dedicated two attorneys to represent youth on release and discipline issues and investigate conditions of confinement issues for all youth who are in the custody of DYS, as well as a trial attorney to litigate post-disposition issues at the juvenile court level and represent youth when their cases are remanded for new trial proceedings after appeal. These recent developments allow the Juvenile Division to represent youth on any legal matter related to their incarceration, from commitment through release and re-entry, and ending with sealing and expungement.
Jill and her team appreciate the support they receive from their Director, Deputy Director, and Legislative Liaison. Their leadership and support ensure the Juvenile Division is able to offer competent, diligent, and zealous representation for children in Ohio.
NJDC would like to celebrate Jill and her team for all of their fantastic work and contributions to the field of juvenile defense!
– October, 2014