2014 Juvenile Defender Leadership Summit
 October 24-26
Louisville, Kentucky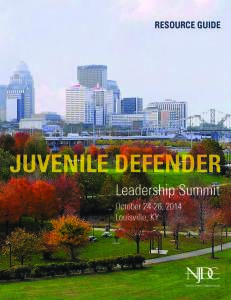 2014 Juvenile Defender Resource Guide
Each year in conjunction with the Summit, NJDC publishes an annual Resource Guide, which is a compilation of law review articles, studies, case briefs, court decisions, and other information relevant to juvenile defense from the preceding year.
To download materials from individual sessions, select the date and session type (General or Workshop) from the listing below. For your reference, you can download the complete NJDC Leadership Summit 2014 Agenda.
Summit Materials