District of Columbia
Juvenile Indigent Defense Delivery System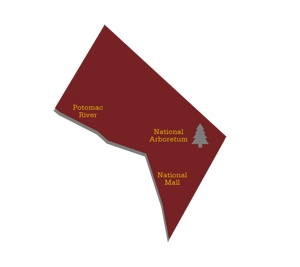 The District of Columbia provides counsel to indigent youth through its Public Defender Service (PDS), which represents up to 60% of indigent defendants in D.C., including juveniles. The remaining defendants are represented by private attorneys drawn from a panel list prepared and maintained by the PDS.
At PDS, the juvenile trial division is staffed by incoming attorneys. PDS attorneys generally do not remain in the juvenile division beyond their first six months. PDS provides specialized training, not only for their own attorneys, but also for the D.C. juvenile panel attorneys, who are required to attend specialized training before applying for the juvenile panel list and adhere to juvenile defense specific practice standards, outlined in the Attorney Practice Standards for Representing Juveniles Charged with Delinquency or in Need of Supervision.
Juvenile Court Rules
In addition to statutes and case law, juvenile court proceedings are governed by court rules. The District of Columbia's juvenile court rules are called the District of Columbia Superior Court Rules Governing Juvenile Proceedings.
Right to Counsel
Beyond the right to counsel in juvenile court guaranteed by the Due Process Clause of the United States Constitution and In re Gault, 387 U.S. 1 (1967), states often have state constitution or statutory provisions further expanding upon on or delineating that right.
In the District of Columbia, "a child alleged to be delinquent or in need of supervision is entitled to counsel at all critical stages of Division proceedings, including the time of admission or denial of allegations in the petition and all subsequent stages." D.C. Code § 16-2304(a). Rule dictates that an attorney must be appointed at all judicial proceedings. Super. Ct. Juv. R. 44. Specific proceedings in which youth have a right to counsel include, but are "not limited to:
The detention or shelter care hearing;
The initial appearance;
Hearings on contested motions;
Any transfer hearing;
The pretrial conference;
The factfinding hearing;
The disposition hearing;
Hearings for the review of a dispositional order." Super. Ct. Juv. R. 44.
Youth also have a right to counsel at probation revocation hearings. Super. Ct. Juv. R. 32(h)(3).
A juvenile must be informed of his or her right to counsel at the initial hearing. D.C. Code § 16-2308 and Super. Ct. Juv. R. 10(a). "In its discretion, the Division may appoint counsel for the child over the objection of the child, his parent, guardian, or other custodian." D.C. Code § 16-2304(a).
If juveniles appear before the Court with joint representation, the Court shall advise each respondent "of the right to effective assistance of counsel, including separate representation." Super. Ct. Juv. R. 44(a)(2). Unless no conflict of interest is likely, the Court must take steps to protect each respondent's right to counsel. Super. Ct. Juv. R. 44(a)(2).
Determination of Indigence
The District of Columbia has no presumption of indigence in juvenile court proceedings. "If the child and his parent, guardian, or custodian are financially unable to obtain adequate representation, the child shall be entitled to have counsel appointed for him in accordance with rules established by the Superior Court." D.C. Code § 16-2304(a). The Public Defender Service, through its Criminal Justice Act office, conducts financial eligibility interviews of arrestees and defendants. Even though the income of the child's custodian is considered in the determination of appointed counsel, "if counsel is not retained for the [youth], or if it does not appear that counsel will be retained, counsel shall be appointed for the [youth]." Super. Ct. Juv. R. 44(a)(1).
Waiver of Counsel
The District of Columbia does not have a specific juvenile statute or rule addressing a juvenile's waiver of counsel.
Detention Provisions
When and how the court may decide to detain a child or otherwise place restrictions on the child's freedom is defined by statute and court rules. In the District of Columbia, "review of a hearing commissioner's order of detention, shelter care or release upon conditions shall be made upon the request of the respondent … within 24 hours," excluding weekends and holidays. Super. Ct. Juv. R. 107(d). Provisions for the detention of juveniles are found in D.C. Code §§ 16-2308, 16-2309, 16-2310, and 16-2312 and in Super. Ct. Juv. R. 44, 105, 106, and 107.
The U.S. Constitution and Supreme Court case law are also sources of due process rights beyond local and state statutes and provisions. NJDC's Detention Page provides more information about detaining youth.
Post-Disposition Advocacy
The legal needs of children in the delinquency system rarely end at disposition, and states vary in the way they provide a right to representation on these post-disposition issues. District of Columbia statutes list two post-disposition proceedings at which youth have a right to counsel.
In D.C., youth have a right to counsel in the following post-disposition proceedings:
Hearings for the review of a dispositional order. Super. Ct. Juv. R. 44(a)(1).
Probation Revocation hearings. ("Probation revocation proceedings shall be heard without a jury and shall require establishment of the facts alleged by a preponderance of the evidence. As nearly as may be appropriate, probation revocation proceedings shall conform to the procedures established by this subchapter for delinquency and need of supervision cases.") D.C. Code § 16-2327(c).
NJDC's Post-Disposition Page has more information on this topic from a national perspective.
Ages of Juvenile Court Jurisdiction
The age of a child who comes within the jurisdiction of the state's juvenile courts is defined by state law. In the District of Columbia:
The youngest age at which a juvenile can be adjudicated delinquent is not specified by any statute;
Juvenile court has jurisdiction over offenses alleged to have been committed prior to a child's 18th birthday; after age 18, the youth is charged in adult court, D.C. Code § 16-2301(3);
Juvenile Court can retain jurisdiction over youth until age 21, provided that the offense alleged to have been committed occurred before the youth turned 18. D.C. Code §§ 16-2301(3) and 16-2303.
Youth in Adult Court
Despite the existence of juvenile courts, many youth are still tried as adults. The District of Columbia has two ways that juveniles can be prosecuted as adults:
Judicial Waiver: If "(1) the child was fifteen or more years of age at the time of the conduct charged, and is alleged to have committed an act which would constitute a felony if committed by an adult; (2) the child is sixteen or more years of age and is already under commitment to an agency or institution as a delinquent child; (3) a minor eighteen years of age or older is alleged to have committed a delinquent act prior to having become eighteen years of age; or (4) a child under 18 years of age is charged with the illegal possession or control of a firearm within 1000 feet" of a school, recreation center for children, etc., the prosecutor may file a motion for transfer to adult criminal court. D.C. Code § 16-2307(a).
Statutory Exclusion: Youths 16 or more years of age who allegedly committed certain enumerated crimes can be charged as adults. D.C. Code § 16-2301(3).
Once an Adult, Always an Adult. D.C. Code § 16-2307(h).
Assessments
NJDC conducts statewide assessments of access to counsel and the quality of juvenile defense representation in delinquency proceedings around the country. These assessments provide a state with baseline information about the nature and efficacy of its juvenile indigent defense structures, highlight the strengths and weaknesses of the indigent juvenile defense system, and provide tailored recommendations that address each state's distinctive characteristics to help decision-makers focus on key trouble spots and highlight best practices. The NJDC State Assessment Page provides more information about state assessments.
NJDC has not yet conducted an assessment of the juvenile indigent defense system in the District of Columbia. If you would like to collaborate with NJDC to fundraise for, plan, or engage in an assessment in this jurisdiction, please contact us.
 Current through August 2015.