Washington
Juvenile Indigent Defense Delivery System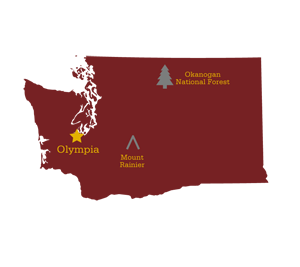 Washington provides counsel to indigent youth through a county-based system which includes public defender offices, non-profit corporations, contract attorneys, and private appointed attorneys. Public defense is primarily funded by counties, which decide their own methods for providing counsel to indigent defendants.
The Washington State Office of Public Defense manages appellate services delivery. Wash. Rev. Stat. § 2.70.050. The Director of the office shall "administer all criminal appellate indigent defense services," submit a budget, establish guidelines and "recommend criteria and standards for determining and verifying indigency." Wash. Rev. Stat. § 2.70.020(1)-(6). It is also the responsibility of the Director to "coordinate with the supreme court and the judges of each division of the court of appeals to determine how attorney services shall be provided." Wash. Rev. Stat. § 2.70.020(7). Indigent defense services may only be provided on a pro bono basis. Wash. Rev. Stat. § 2.70.030(2)(a). "The office of public defense shall not provide direct representation of clients." Wash. Rev. Stat. § 2.70.020.
The Washington state office of public defense is responsible for distributing appropriated funds among counties (90%) and cities (10%) for the improvement of public defense services. Wash. Rev. Stat. §§ 10.101.050, 10.101.070, 10.101.080.
Each county adopts standards for delivery of public defense services. Wash. Rev. Stat. § 10.101.030.
Court Rules
In addition to statutes and case law, juvenile court proceedings are governed by court rules. These are often promulgated at the state level, but may also be passed at the local court level instead of or in addition to statewide rules. Washington's juvenile court rules are called the Washington State Court Rules: Juvenile Court Rules.
Right to Counsel
Beyond the right to counsel in juvenile court guaranteed by the Due Process Clause of the United States Constitution and In re Gault, 387 U.S. 1 (1967), states often have state constitution or statutory provisions further expanding upon on or delineating that right.
In Washington, youth in juvenile court have the right to counsel at all critical stages of the proceedings. Wash. Rev. Stat. § 13.40.140(2). Youth have the right to counsel "Where the juvenile may be subject to transfer for criminal prosecution, or in any proceeding where the juvenile may be in danger of confinement," Wash. Rev. Stat. § 13.40.140(2). When the parties are in court, the court must inform the juvenile and his or her parent, guardian, or custodian of this right. Wash. Rev. Stat. §§ 13.40.140(1), (2). "The right to counsel includes the right to appointment of necessary experts." Wash. Rev. Stat. § 13.40.140(3). Notice of the right to counsel must also be provided in notices of shelter care hearings and in court summons.  Wash. Juv. Ct. R. 2.3, 7(c).
Youth specifically have the right to counsel at the following proceedings:
Commencement of the detention hearing. Wash. Rev. Stat. § 13.40.050(3).
For youth who are eligible for diversion, before the initial interview with the diversion unit. Wash. Juv. Ct. R. 6.2.
Determination of Indigence
Washington has no presumption of indigence in juvenile court proceedings. If a party asks for court-appointed counsel, proof of indigency must be provided and a hearing may be held on the matter. Wash. Rev. Stat. § 13.40.140(4). The standard is "a juvenile who is financially unable to obtain counsel without causing substantial hardship to himself or herself or the juvenile's family." Wash. Rev. Stat. § 13.40.140(2). "In no case may a juvenile be deprived of counsel because of a parent, guardian, or custodian refusing to pay therefor." Wash. Rev. Stat. § 13.40.140(2).
Waiver of Counsel
In Washington, a juvenile who is at least twelve years old may waive the right to counsel if the waiver is "an express waiver intelligently made by the juvenile after the juvenile has been informed of the right being waived." Wash. Rev. Stat. § 13.40.140(9). If a juvenile is under twelve years of age, the juvenile is prohibited from waiving his or her rights, but his or her parent, guardian or custodian shall give any waiver. Wash. Rev. Stat. § 13.40.140(10).
Detention Provisions
When and how the court may decide to detain a child or otherwise place restrictions on the child's freedom is defined by statute and court rules. A petition must be filed within 72 hours of the child being detained, excluding weekends and holidays, and a detention hearing must occur within 72 hours of when the petition is filed. Wash. Rev. Stat. § 13.40.050(1).
Provisions for the detention of juveniles are found in Wash. Rev. Stat. §§ 13.40.038, 13.40.040, 13.40.050, and Wash. Juv. Ct. R. 7.3 and 7.4.
The U.S. Constitution and Supreme Court case law are also sources of due process rights beyond local and state statutes and provisions.  NJDC's Detention Page provides more information about detaining youth.
Post-Disposition Advocacy
The legal needs of children in the delinquency system rarely end at disposition, and states vary in the way they provide a right to representation on these post-disposition issues. Washington statutes list no post-disposition proceedings at which youth have a right to counsel.
NJDC's Post-Disposition Page has more information on this topic from a national perspective.
Ages of Juvenile Court Jurisdiction
The age of a child who comes within the jurisdiction of the state's juvenile courts, as well as the age of culpability, is defined by state law. In Washington:
Statute provides that "Children under the age of eight years are incapable of committing crime. Children of eight and under twelve years of age are presumed to be incapable of committing crime, but this presumption may be removed by proof that they have sufficient capacity to understand the act or neglect, and to know that it was wrong." Wash. Rev. Stat § 9A.04.050;
Juvenile court has jurisdiction over offenses alleged to have been committed prior to a child's 18th birthday; after age 18, the youth is charged in adult court, Wash. Rev. Stat. § 13.04.011(2);
Youth in Adult Court
Despite the existence of juvenile courts, many youth are still tried as adults. Washington has three ways that juveniles can be prosecuted as adults:
Discretionary Waiver, for any offense, after hearing, Mandatory Waiver, after hearing, for juveniles at least 16 that meet the statutorily-delineated offense criteria. Wash. Rev. Stat. § 13.40.110.
Statutory Exclusion is required for youth age 16 and older that meet the offense criteria. Wash. Rev. Stat. § 13.04.030.
Once an Adult, Always an Adult, for any individual under 18 who has not been previously transferred to adult court, unless the individual was convicted of a lesser charge or acquitted. Wash. Rev. Stat. § 13.40.020(14).
Assessments
NJDC conducts statewide assessments of access to counsel and the quality of juvenile defense representation in delinquency proceedings around the country. These assessments provide a state with baseline information about the nature and efficacy of its juvenile indigent defense structures, highlight the strengths and weaknesses of the indigent juvenile defense system, and provide tailored recommendations that address each state's distinctive characteristics to help decision-makers focus on key trouble spots and highlight best practices. The NJDC State Assessment Page provides more information about state assessments.
The Washington State Assessment was completed in October 2003.
Current through January 2014