Virginia
Juvenile Indigent Defense Delivery System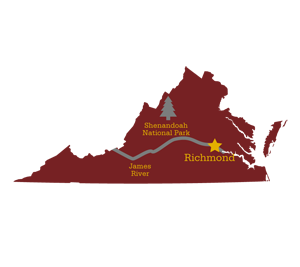 Virginia provides counsel to indigent youth through a combination of public defender offices and private attorneys appointed by the court. The Virginia Indigent Defense Commission, an independent state agency within the judicial branch, oversees indigent defense in Virginia and certifies attorneys to represent indigent clients. Va. Code Ann. § 19.2-163.01. State statute defines where public defender offices are located. Va. Code Ann. § 19.2-163.04.
The duties of the Indigent Defense Commission include establishing and enforcing qualifications and standards for attorneys representing indigent defendants; "receiving and expending moneys appropriated by the General Assembly of Virginia;" developing and certifying training courses for attorneys who serve as court-appointed counsel; and maintaining a list of attorneys, admitted to practice law in Virginia, who meet the eligibility requirements. Va. Code Ann. § 19.2-163.01.
Virginia has statutorily required initial and ongoing qualifications for attorneys representing youth in delinquency proceedings. Va. Code Ann. § 19.2-163.03(A)(3). The requirements include both training and experience in juvenile cases. The Indigent Commission developed Standards of Practice for Indigent Defense Counsel in Non-Capital Criminal Cases at the Trial Level, which include a specific section on Standards of Practice for Juvenile Defense Counsel. The Standards are intended to provide juvenile defense attorneys with a general guide to appropriate and zealous advocacy on behalf of clients in delinquency proceedings as well as children being tried as an adult.
Court Rules
In addition to statutes and case law, juvenile court proceedings are governed by court rules. These are often promulgated at the state level, but may also be passed at the local court level instead of or in addition to statewide rules. Virginia's delinquency proceedings are governed by the Rules of Supreme Court of Virginia, Part Eight, Juvenile and Domestic Relations Courts.
Right to Counsel
Beyond the right to counsel in juvenile court guaranteed by the Due Process Clause of the United States Constitution and In re Gault, 387 U.S. 1 (1967), states often have state constitution or statutory provisions further expanding upon on or delineating that right.
In Virginia, youth in juvenile court have the right to counsel in detention, adjudicatory and transfer hearings involving a child alleged to be in need of services, in need of supervision, or delinquent. Va. Code Ann. § 16.1-266(B), (C). At the first hearing in a delinquency case, the judge shall advise the youth of his or her right to trial. Va. Sup. Ct. R. 8:17. Prior to the detention hearing, the court shall appoint "a qualified and competent attorney-at-law" to represent an unrepresented child. Va. Code Ann. § 16.1-266(B).
The court must inform a child and his parent, guardian, legal custodian of the child's right to counsel and of the parent's liability for the costs of the child's legal representation. Va. Code Ann. § 16.1-266(C). The court must provide this information after the detention hearing (if there is one) and before the adjudicatory or transfer hearing, and then the parents and child must be given an opportunity to" hire private counsel, request a court-appointed attorney, or waive the right to counsel. Id.
A child is specifically entitled to counsel at the following stages:
Prior to the detention hearing, and the child is presumed indigent for purposes of this hearing. Va. Code Ann. 16.1-266(B).
Prior to adjudicatory hearing, Va. Code Ann. 16.1-266(C).
Prior to transfer hearing, id.
Determination of Indigence
Virginia has no presumption of indigence in juvenile court proceedings other than the detention hearing. "For the purposes of appointment of counsel for the detention hearing … only, a child's indigence shall be presumed." Va. Code Ann. § 16.1-266(B). For all other proceedings, when a child or the child's parent or guardian requests court-appointed counsel for the child, the parent or guardian must complete a statement of indigence and financial statement, and from that information, the court determines whether the child is indigent. Va. Code Ann. § 16.1-266(C)(2). Indigence is defined as earning up to 125% of the federal poverty level. Va. Code Ann. § 19.2-159.
Waiver of Counsel
A juvenile in Virginia may waive his or her right to counsel "if the court finds the child and the parent, guardian, legal custodian or other person standing in loco parentis of the child consent in writing and such waiver is consistent with the interests of the child." Va. Code Ann. § 16.1-266(C)(3). A child who is alleged to have committed an offense that would be a felony if committed by an adult, may waive [the right to counsel] only after he consults with an attorney and the court determines that his waiver is free and voluntary. The waiver shall be in writing, signed by both the child and the child's attorney and shall be filed with the court records of the case." Id.
Detention Provisions
When and how the court may decide to detain a child or otherwise place restrictions on the child's freedom is defined by statute and court rules. In Virginia, a detention hearing must occur on the next day on which the court sits within the city or county where the child was taken into custody. Va. Code Ann. § 16.1-250. If that court does not sit on the next day, then the hearing must occur no later than 72 hours after the child was detained, excluding week-ends and legal holidays. Id. Provisions for the detention of juveniles are found in Va. Code Ann. §§ 16.1-246, 16.1-247, 16.1-248.1, 16.1-249, 16.1-250, 16.1-250.1 16.1-255, and 16.1-266.
The U.S. Constitution and Supreme Court case law are also sources of due process rights beyond local and state statutes and provisions. NJDC's Detention Page provides more information about detaining youth.
Post-Disposition Advocacy
The legal needs of children in the delinquency system rarely end at disposition, and states vary in the way they provide a right to representation on these post-disposition issues. Virginia statutes list no post-disposition proceedings at which youth have a right to counsel.
NJDC's Post-Disposition Page has more information on this topic from a national perspective.
Ages of Juvenile Court Jurisdiction
The age of a child who comes within the jurisdiction of the state's juvenile courts is defined by state law. In Virginia:
No statute specifies the youngest age at which a juvenile can be adjudicated delinquent;
Juvenile court has jurisdiction over offenses alleged to have been committed prior to a child's 18th birthday; after age 18, the youth is charged in adult court, Va. Code Ann. § 16.1-228;
Juvenile court can retain jurisdiction over youth until age 21, provided that the offense alleged to have been committed occurred before the youth turned 18. Va. Code Ann. § 16.1-242.
Youth in Adult Court
Despite the existence of juvenile courts, many youth are still tried as adults. Virginia has three ways that juveniles can be prosecuted as adults:
Discretionary and Mandatory Waiver, where Discretionary waiver can be used for youth age 14 and older for any felony.  Va. Code Ann. § 16.1-269.1(A). Mandatory waiver is required for youth 14 and older for murder and other serious offenses. Va. Code Ann. § 16.1-269.1(B).
Prosecutorial Discretion can be used for youth age 14 and older for certain felonies. Va. Code Ann. § 16.1-269.1 (C).
Once an Adult, Always an Adult, Va. Code Ann. § 16.1-271.
Assessments
NJDC conducts statewide assessments of access to counsel and the quality of juvenile defense representation in delinquency proceedings around the country. These assessments provide a state with baseline information about the nature and efficacy of its juvenile indigent defense structures, highlight the strengths and weaknesses of the indigent juvenile defense system, and provide tailored recommendations that address each state's distinctive characteristics to help decision-makers focus on key trouble spots and highlight best practices. The NJDC State Assessment Page provides more information about state assessments.
The Virginia Assessment was completed in 2002.
Current through January 2014