North Dakota
Juvenile Indigent Defense Delivery System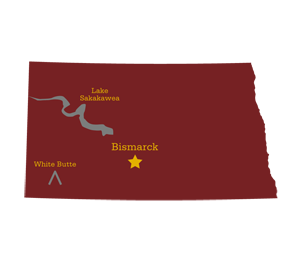 North Dakota provides counsel to indigent youth through a state-funded system overseen by the Commission on Legal Counsel for Indigents (CLCI). North Dakota has seven full-time public defender offices responsible for representing indigent adults and juveniles. In geographic areas where there is no public defender office or where there are conflicts, indigent legal services are provided by private attorneys who contract with CLCI.
CLCI has adopted a number of standards and policies regarding the representation of indigent clients, including a standard on minimum qualifications for contract counsel and public defenders. This standard requires counsel to have "sufficient training and experience to provide effective representation" but is not specific to juvenile cases. In addition, CLCI created the Minimum Attorney Performance Standards for Juvenile Unruly and Delinquency Matters.
Court Rules
In addition to statutes and case law, juvenile court proceedings are governed by court rules. These are often promulgated at the state level, but may also be passed at the local court level instead of or in addition to statewide rules. North Dakota's juvenile court rules are called the North Dakota Rules of Juvenile Procedure (which were last updated on May 1, 2015).
Right to Counsel
Beyond the right to counsel in juvenile court guaranteed by the Due Process Clause of the United States Constitution and In re Gault, 387 U.S. 1 (1967), states often have state constitution or statutory provisions further expanding upon on or delineating that right.
In North Dakota, youth in juvenile court have the right to counsel "at custodial, post-petition, and informal adjustment stages of proceedings" pursuant to the Uniform Juvenile Court Act. N.D. Cent. Code § 27-20-26(1). If a child is indigent, counsel will be appointed. If a parent or guardian is indigent, the parent or guardian is entitled to their own counsel "at public expense only during the dispositional stage of the proceedings." N.D. Cent. Code § 27-20-26(1). The court must appoint counsel for any child  who is under the age of 18 and not accompanied by his or her parent, guardian, or custodian. N.D. Cent. Code § 27-20-26(1). "The summons must state that a party is entitled to counsel in the proceedings." N.D. Cent. Code § 27-20-22(4). If a party appears without counsel, the court must determine whether the party understands his or her right to counsel; the court may continue the proceeding to allow the party to obtain counsel or must appoint counsel if the party is indigent and requests counsel. N.D. Cent. Code § 27-20-26(1). If there is a conflict of interest between two or more parties, each party must be appointed separate representation. N.D. Cent. Code § 27-20-26(1).
Determination of Indigence
North Dakota has no presumption of indigence in juvenile court proceedings. The determination of whether a child is indigent is based on the parents' financial situation. N.D. Cent. Code § 27-20-26(2). A child is considered indigent if the child or his or her parents, "at the time of requesting counsel, are unable, without undue financial hardship, to provide for full payment of legal counsel and all other necessary expenses for representation." N.D. Cent. Code § 27-20-26(2). According to the State's Guidelines to Determine Eligibility for Indigent Defense Services, representation "will not be provided unless a properly completed application is submitted, and a finding made by the court that the party qualifies for services. Applications for appointed counsel shall be made on the standard application form provided by the Commission [CLCI]."
If the parent has the ability to pay, the parent is "responsible for providing legal counsel and for paying other necessary expenses of representation for the parent's child." N.D. Cent. Code § 27-20-26(2). The court may enforce this duty by order. N.D. Cent. Code § 27-20-26(2).
Waiver of Counsel
A juvenile in North Dakota may waive his or her right to counsel when the juvenile is represented by his or her parents or guardian and if, considering the totality of the circumstances, the waiver is made knowingly, intelligently, and voluntarily. In re R.D.B., 575 N.W.2d 420, 423 (N.D. 1998). A child may not waive his or her right to counsel if the child is not represented by his or her parent, guardian or custodian. In re R.P., 745 N.W.2d 642, 646 (N.D. 2008).
Detention Provisions
When and how the court may decide to detain a child or otherwise place restrictions on the child's freedom is defined by statute and court rules. In North Dakota, a detention hearing must occur promptly, and no later than 96 hours after the youth is detained. N.D. Cent. Code § 27-20-17(2). Juvenile Rule 2, however, reduces the time required for the hearing to 24 hours if the child is in secure detention. Children initially placed in shelter care must have a hearing withing 96 hours. Rule 2 also requires a new detention hearing if the child has been held for 60 days or longer. Other provisions for the detention of juveniles are found in N.D. Cent. Code §§ 27-20-13 to -17, and 27-20-26.
An order of disposition committing a child adjudicated delinquent to the Division of Juvenile Services remains in force for not more than 12 months, not including any time on parole. N.D. Cent. Code § 27-20-36(2). The juvenile court may extend the 12-month period if (1) a hearing is held before the expiration of the order, (2) reasonable notice of the hearing and opportunity to be heard are given to the child and parent; and (3) the court finds that the extension is necessary for the treatment and rehabilitation of the child. N.D. Cent. Code § 27-20-36(2).
The U.S. Constitution and Supreme Court case law are also sources of due process rights beyond local and state statutes and provisions. NJDC's Detention Page provides more information about detaining youth.
Post-Disposition Advocacy
The legal needs of children in the delinquency system rarely end at disposition, and states vary in the way they provide a right to representation on these post-disposition issues. North Dakota statutes list no post-disposition proceedings at which youth have a right to counsel.
NJDC's Post-Disposition Page has more information on this topic from a national perspective.
Ages of Juvenile Court Jurisdiction
The age of a child who comes within the jurisdiction of the state's juvenile courts is defined by state law. In North Dakota:
"Persons under the age of seven years are deemed incapable of commission of an offense defined by the constitution or statutes of this state", N.D. Cent. Code § 12.1-04-01;
Juvenile court has jurisdiction over offenses alleged to have been committed prior to a child's 18th birthday; after age 18, the youth is charged in adult court, N.D. Cent. Code § 27-20-02;
Juvenile court can retain jurisdiction over youth until age 20, provided that the offense alleged to have been committed occurred before the youth turned 18, N.D. Cent. Code § 27-20-36(6).
Youth in Adult Court
Despite the existence of juvenile courts, many youth are still tried as adults. North Dakota has two ways that juveniles can be prosecuted as adults:
Discretionary waiver. The court may transfer a youth age 14 or older that is considered not amenable to rehabilitation and meets other criteria. N.D. Cent. Code § 27-20-34(1)(c).
Mandatory waiver. The court must transfer the matter if the youth is 14 or older and accused of a most serious crime. The court must also transfer a case if the youth is 16 or older and requests transfer. N.D. Cent. Code § 27-20-34(1).
Once an Adult, Always an Adult: "Any transfer operates to terminate the juvenile court's jurisdiction over the child with respect to any future offense if the child is ultimately convicted of the offense giving rise to the transfer." N.D. Cent. Code § 27-20-34(4).
Assessments
NJDC conducts statewide assessments of access to counsel and the quality of juvenile defense representation in delinquency proceedings around the country. These assessments provide a state with baseline information about the nature and efficacy of its juvenile indigent defense structures, highlight the strengths and weaknesses of the indigent juvenile defense system, and provide tailored recommendations that address each state's distinctive characteristics to help decision-makers focus on key trouble spots and highlight best practices. The NJDC State Assessment Page provides more information about state assessments.
NJDC has not yet conducted an assessment of the juvenile indigent defense system in North Dakota. If you would like to collaborate with NJDC to fundraise for, plan, or engage in an assessment in this state, please contact us.
Last Updated September 2016.