Georgia
Juvenile Indigent Defense Delivery System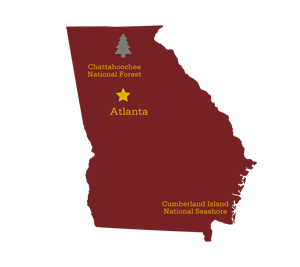 Georgia provides counsel to indigent youth through a statewide public defender system, the Georgia Public Defender Standards Council (GPDSC), in which public defenders are appointed in each judicial circuit. Each circuit defender is required to establish a juvenile division to specialize in youth representation and to represent youth in any juvenile court case that may result in confinement, commitment, or probation, as well as related appeals. Ga. Code Ann. § 17-12-23. The requirement to establish juvenile divisions has not yet been funded by the state, so counties are left to fund juvenile defense on their own.
Georgia has no statutorily required or recommended training requirements or standards for attorneys representing youth in delinquency proceedings. The GPDSC is required to promulgate standards for public defenders. It is also responsible providing and/or approving training for public defenders, and offers technical assistance with juvenile appeals. Ga. Code Ann. § 17-12-6 et seq. No standards are currently available. The indigent defense system is funded by a mix of the state and county funds.
Court Rules
In addition to statutes and case law, juvenile court proceedings are governed by court rules. These are often promulgated at the state level, but may also be passed at the local court level instead of or in addition to statewide rules. Georgia's juvenile court rules are called the Uniform Rules for the Juvenile Courts of Georgia.
Right to Counsel
Beyond the right to counsel in juvenile court guaranteed by the Due Process Clause of the United States Constitution and In re Gault, 387 U.S. 1 (1967), states often have state constitution or statutory provisions further expanding upon on or delineating that right.
In Georgia, youth in juvenile court have the right to counsel at all stages of delinquency proceedings. Ga. Code Ann. § 15-11-475(a). A child shall be advised of his or her right to counsel "prior to the commencement of the detention hearing," (Ga. Uni. Juv. Ct. R. 8.3), or at his or her first court appearance. Ga. Code Ann. § 15-11-19(b). The GPDSC requires counsel to be appointed as soon as is feasible and no later than 72 hours after the initial detention or charging. Ga. Code Ann. § 17-12-23(b).
Determination of Indigence
Georgia has no presumption of indigence in juvenile court proceedings. "The circuit public defender, any other person or entity providing indigent defense services, or the GPDSC shall determine if a person or juvenile arrested, detained, or charged in any manner is an indigent person entitled to representation." Ga. Code Ann. § 17-12-24. The GPDSC has established income and asset guidelines for determining indigence. A person is considered indigent if he or she cannot hire a lawyer without "undue hardship" for himself or his dependents, and in juvenile court, the income determination includes the child's parents' income. Guidelines for Determining Qualification of Applicants for Services of GPDSC (2012). However, regardless of indigence, appointment of counsel for juveniles is automatic and cannot be waived, unless a juvenile has met with counsel and his or her liberty is not at risk. Ga. Code Ann., § 15-11-475(c).
Waiver of Counsel
In Georgia, a juvenile may waive his or her right to counsel at arraignment if the youth's liberty is not in jeopardy. Ga. Code Ann. §§ 15-11-475 and 15-11-511. Parents cannot waive their child's right to counsel. Ga. Code Ann. §§ 15-11-475(b).
Detention Provisions
When and how the court may decide to detain a child or otherwise place restrictions on the child's freedom is defined by statute and court rules.
In Georgia, "a detention hearing shall be held promptly and not later than:
Two business days after such child is placed in preadjudication custody if such child is taken into custody without an arrest warrant; or
Five business days after such child is placed in preadjudication custody if such child is taken into custody pursuant to an arrest warrant."
Ga. Code Ann. §§ 15-11-506(b).
"If the detention hearing cannot be held within two business days … because the date for the hearing falls on a weekend or legal holiday, the court shall review the decision to detain such child and make a finding based on probable cause within 48 hours of such child being placed in preadjudication custody." Ga. Code Ann. § 15-11-506(c).
Provisions for the detention of juveniles are found in Ga. Code Ann. §§ 15-11-500 to -508, 15-11-472, and in Ga. Uni. Juv. Ct. R., 6.8 and 8.1 to 8.6.
The U.S. Constitution and Supreme Court case law are also sources of due process rights beyond local and state statutes and provisions.  NJDC's Detention Page provides more information about detaining youth.
Post-Disposition Advocacy
The legal needs of children in the delinquency system rarely end at disposition, and states vary in the way they provide a right to representation on these post-disposition issues. Georgia statutes list no post-disposition proceedings at which youth have a right to counsel.
NJDC's Post-Disposition Page has more information on this topic from a national perspective.
Ages of Juvenile Court Jurisdiction
The age of a child who comes within the jurisdiction of the state's juvenile courts is defined by state law. In Georgia:
No statute specifies the youngest age at which a juvenile can be adjudicated delinquent;
Juvenile court has jurisdiction over offenses alleged to have been committed prior to a child's 17th birthday; after age 17, the youth is charged in adult court;
Juvenile court can retain jurisdiction over youth until age 21, provided that the offense alleged to have been committed occurred before the youth turned 17. Ga. Code Ann. § 15-11-2(10).
Youth in Adult Court
Despite the existence of juvenile courts, many youth are still tried as adults. Georgia has two ways that juveniles can be prosecuted as adults:
Discretionary Transfer: The juvenile court may hold a hearing to transfer a juvenile's case to adult criminal court in which the "petition alleges that such child: (A) Was at least 15 years of age at the time of the commission of the offense and committed an act which would be a felony if committed by an adult; or (B) Was 13 or 14 years of age and either committed an act for which the punishment is loss of life or confinement for life in a penal institution or committed aggravated battery resulting in serious bodily injury to a victim." Ga. Code Ann. § 15-11-561(a).
Statutory Exclusion: Adult criminal (superior) court has exclusive original jurisdiction over the trial of any child 13 to 17 alleged to have committed murder, voluntary manslaughter, rape, aggravated sodomy, aggravated child molestation, aggravated sexual battery, or armed robbery committed with a firearm. The prosecutor may opt to reverse transfer these cases to juvenile court. Alternatively, the superior court may transfer the cases involving a few of the above delineated offenses to juvenile court. Ga. Code Ann. § 15-11-560.
Assessments
NJDC conducts statewide assessments of access to counsel and the quality of juvenile defense representation in delinquency proceedings around the country. These assessments provide a state with baseline information about the nature and efficacy of its juvenile indigent defense structures, highlight the strengths and weaknesses of the indigent juvenile defense system, and provide tailored recommendations that address each state's distinctive characteristics to help decision-makers focus on key trouble spots and highlight best practices. The NJDC State Assessment Page provides more information about state assessments.
The Georgia Assessment was completed in 2001.

Current through January 2014