Alaska
Juvenile Indigent Defense Delivery System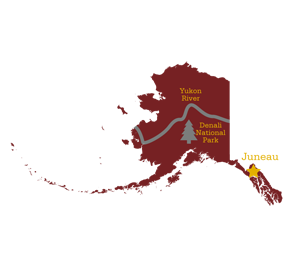 Alaska provides counsel to indigent youth through a statewide Public Defender Agency,
whose mandate includes juvenile delinquency cases. Alaska Stat. § 18.85.100(a). The public defender may form contracts with private attorneys to provide additional representation. Alaska Stat. § 18.85.130. The public defender agency is 100% state funded. Public defenders of youth who have committed municipal offenses that are deemed serious crimes are paid by the municipality. Alaska Stat. § 18.85.155.
Alaska has no statutorily required or recommended training requirements or standards for attorneys representing youth in delinquency proceedings.
Alaska youth have a right to a trial by jury in adjudicatory hearings, if requested at least 20 days before trial. Alaska Sup. Ct. Delinquency R. 21(a).
Juvenile Court Rules
In addition to statutes and case law, juvenile court proceedings are governed by court rules. These are often promulgated at the state level, and may or may not be supplemented by local court rules. Alaska's juvenile court rules are called the Alaska Delinquency Rules.
Right to Counsel
Beyond the right to counsel in juvenile court guaranteed by the Due Process Clause of the United States Constitution and In re Gault, 387 U.S. 1 (1967), states often have state constitution or statutory provisions further expanding upon on or delineating that right.
In Alaska, youth in juvenile court have the right to counsel:
In all proceedings initiated under a petition for delinquency, Alaska Stat. § 47.12.090;
At detention hearings, Alaska Stat. § 47.12.250(c);
In "timely application[s] for post-conviction relief under AS 12.72," Alaska Stat. § 18.85.100(c);
At probation revocation hearings, Alaska Sup. Ct. Delinquency R. 24;
If a prosecuting attorney or law enforcement officer asks the court to appoint counsel "and the court finds that the provision of representation is necessary in the interests of justice." Alaska Stat. § 18.85.100(d).
At the first hearing, the court must inform a juvenile of his or her right to be represented by counsel at all subsequent stages of the proceedings. Alaska Sup. Ct. Delinquency R. 16.
Determination of Indigence
Alaska's juvenile delinquency rule on right to counsel says the Alaska Rules of Criminal Procedure rules on indigence apply to delinquency proceedings. Alaska Sup. Ct. Delinquency R. 16(b). "A defendant is eligible for court-appointed counsel if the court finds that the total financial resources available to the defendant are not sufficient to pay allowable household expenses and the likely cost of private representation through trial." Alaska R. Crim. Pro. 39.1(b)(1).
In determining indigence, the judge considers factors such as income, property owned, debts, and dependents. Alaska Stat. § 18.85.120.A person is indigent if he or she is unable to provide for payment without undue hardship. Alaska Stat. § 18.85.100(b). Indigence is also defined as a person who lacks the resources to pay for legal services without depriving herself or her dependents of food, shelter, or clothing. Alaska Stat. § 18.85.170(4). The determination of indigence must be made as soon as practicable, but not later than 60 days after an action commences. Alaska R. Admin. 10.
"If the defendant is a minor or an adult who cannot live independently, the court shall consider the resources of both the defendant and the defendant's parents, unless the parents were victims of the alleged offense or the court finds other good cause to treat their resources as being unavailable to the defendant." Alaska R. Crim. Pro. 39.1(c)(2). The court may order a parent to contribute an amount consistent with his or her financial resources to pay for the child's attorney. Alaska Sup. Ct. Delinquency R. 16.
Waiver of Counsel
Alaska allows a minor to make a voluntary, knowing, and intelligent waiver of the right to counsel if a parent or guardian with whom the minor resides or resided before the filing of the petition concurs with the waiver. However, if the minor allegedly committed an act that would be a felony if committed by an adult, waiver of counsel may not be accepted unless the court is satisfied that the minor has consulted with an attorney before the waiver of counsel. Alaska Stat. § 47.12.090, Alaska Sup. Ct. Delinquency R. 16(c).
Detention Provisions
When and how the court may decide to detain a child or otherwise place restrictions on the child's freedom is defined by statute and court rules. In Alaska, a detention hearing must occur within 48 hours of notice to the court of detention. Alaska Stat. § 47.12.250. Provisions for the detention of juveniles are found in Alaska Stat. §§ 47.12.240, and 47.12.250, and in Alaska Sup. Ct. Delinquency R. 12 and 13.
The U.S. Constitution and Supreme Court case law are also sources of due process rights beyond local and state statutes and provisions.  NJDC's Detention Page provides more information about detaining youth.
Post-Disposition Advocacy
The legal needs of children in the delinquency system rarely end at disposition, and states vary in the way they provide a right to representation on these post-disposition issues. The Alaska Delinquency Rules on Probation Revocation (Rule 24) and Review and Extension of Disposition Orders (Rule 25) discuss post-disposition hearings at which a juvenile has a right to counsel.
NJDC's Post-Disposition Page has more information on this topic from a national perspective.
Ages of Juvenile Court Jurisdiction
The age of a child who comes within the jurisdiction of the state's juvenile courts is defined by state law. In Alaska:
No statute specifies the youngest age at which a juvenile can be adjudicated delinquent;
Juvenile court has jurisdiction over offenses alleged to have been committed prior to a child's 18th birthday; after age 18, the youth is charged in adult court, Alaska Stat. § 47.12.020.
Juvenile court can retain jurisdiction over youth until age 19, provided that the offense alleged to have been committed occurred before a youth turned 18, Alaska Stat. § 47.12.160.
If the juvenile court retains jurisdiction over a youth until age 19, the Department of Health and Social Services may apply for and the court may grant an additional one-year period of supervision past age 19 if continued supervision is in the best interests of the youth and the youth consents to it. Alaska Stat. §§ 47.12.120 and 47.12.160.
Youth in Adult Court
Despite the existence of juvenile courts, many youth are still tried as adults. Alaska has two ways that juveniles can be prosecuted as adults:
Discretionary judicial waiver: The juvenile court has original jurisdiction over these cases, but the Department of Health and Social Services of the State of Alaska or the juvenile may file a petition requesting the court to waive jurisdiction. The court must conduct a hearing and consider statutorily listed factors to determine whether to waive jurisdiction. Waiver closes the juvenile court case and allows the minor to be prosecuted as an adult. For some offenses there is a presumption that the juvenile should be waived to adult court, and for other offenses there is a presumption that the juvenile should remain in juvenile court. Alaska Stat. § 47.12.100 and Alaska Sup. Ct. Delinquency R. 20.
Statutory exclusion: Alaska has a list of offenses, which if committed by a youth aged 16 or older, require the youth to be "charged, held, released on bail, prosecuted, sentenced, and incarcerated in the same manner as an adult." Alaska Stat. § 47.12.030.
Assessments
NJDC conducts statewide assessments of access to counsel and the quality of juvenile defense representation in delinquency proceedings around the country. These assessments provide a state with baseline information about the nature and efficacy of its juvenile indigent defense structures, highlight the strengths and weaknesses of the indigent juvenile defense system, and provide tailored recommendations that address each state's distinctive characteristics to help decision-makers focus on key trouble spots and highlight best practices. The NJDC State Assessment Page provides more information about state assessments.
NJDC has not yet conducted an assessment of the juvenile indigent defense system in Alaska. If you would like to collaborate with NJDC to fundraise for, plan, or engage in an assessment in this state, please contact us.
Current through July 2015