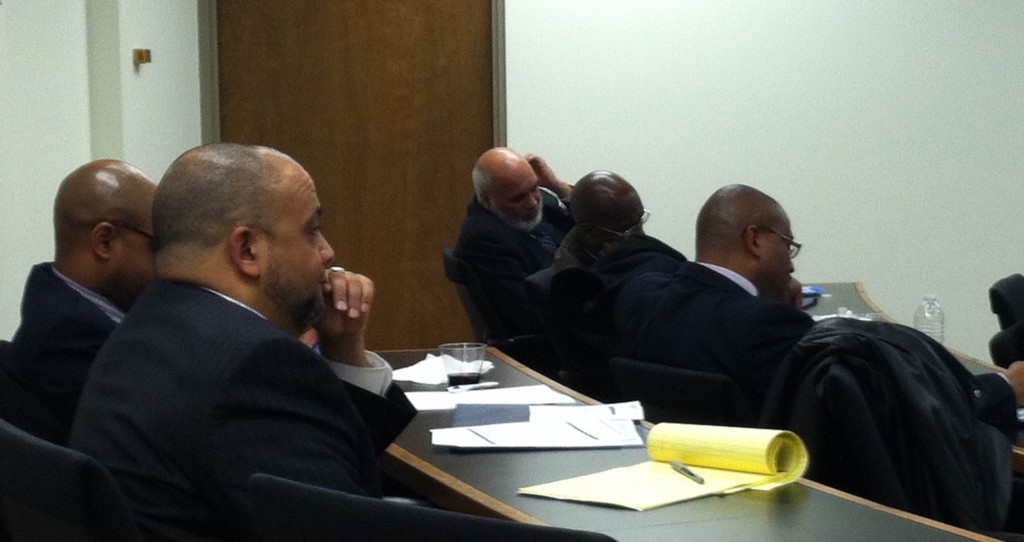 In November 2013, MAJDC launched the DC Juvenile Panel Trial Practice Group (TPG). The TPG seeks to provide a formal infrastructure to facilitate training, resource development, and other comprehensive support for solo practitioners in DC's juvenile court. The TPG offers members monthly training, technical support and a twice-monthly newsletter with case updates from the DC Court of Appeals, juvenile practice tips, and information about monthly trainings. Find out about our upcoming trainings here. Read more about the TPG here.
---
A Clean Slate: Sealing Juvenile Records in the District of Columbia, An Advocate's Guide
MAJDC has published a practice manual on how to seal juvenile records in the District of Columbia.
The manual is available here: A Clean Slate.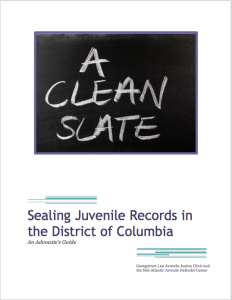 MAJDC Rural Ambassadors Program
The Mid-Atlantic Juvenile Defender Center (MAJDC) at the Georgetown Law Juvenile Justice Clinic is proud to announce the launch of our inaugural class of the MAJDC Rural Ambassadors Program. The MAJDC Rural Ambassadors Program seeks to incentivize rural attorneys to specialize and pursue a career in juvenile defense by providing 12 months of training, support, and an opportunity to engage with a community of zealous juvenile defenders.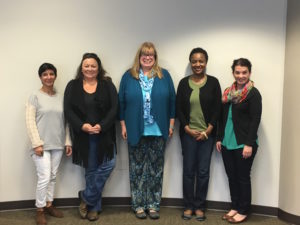 Five juvenile defenders who practice in rural areas joined us September 23-25, 2016 here at Georgetown Law for a kick-off weekend program. These juvenile defenders learned about the cutting edge areas for advocacy in juvenile defense including adolescent development, racial justice, and the reasonable juvenile standard. Defenders were also tasked with designing a project they will complete over the course of the coming year. Applicants were selected through a competitive application and nomination process. As part of the program, participants will participate in monthly webinars and conference calls, will be mentored by two mentors at the national and state levels, will complete a policy, training, or community building project in their home jurisdiction, and will attend the JTIP Summer Academy 2017.
Maryland Parole Commission To Hold Hearings for Hundreds of Juvenile Lifers
October 15, 2016, The Maryland Parole Commission says it plans to hold hearings within the next year for nearly 300 inmates who were sentenced to life for crimes they committed as juveniles. Read More.
---
Building Community Alternatives to Virginia's Juvenile Justice System
September 22, 2016, Advocates and state leaders are making progress on changes to Virginia's juvenile justice system, which includes laying the groundwork to build community-based alternatives that offer a range of support for children and families. The momentum to establish alternatives is being driven by a diverse coalition, including formerly incarcerated youth. In the first of a two-part series, Catherine Komp has more for Virginia Currents. Read More.
---
Virginia Detention Centers See Significant Decrease in Juvenile Intakes
September 21, 2016, Roanoke, Virginia, Police in the Commonwealth want to prevent more juveniles from becoming prisoners. It was a discussion topic at the Virginia Association of Police Chiefs Conference in Roanoke. Educators and law enforcement agents from across Virginia are examining alternative approaches to discipline students. Read More.
---
Virginia Juveniles: Sentenced to Debtors' Prison?
September 21, 2016, Richmond, Virginia, Young people in Virginia's juvenile-justice system often end up jailed longer because of their inability to pay fines and court fees, according to a new analysis by the Juvenile Law Center. Its report, "Debtors' Prison for Kids," found that many young offenders stay locked up or on probation when they can't afford court fees and costs. Read More.
---
Experts Advocate for Better Mental Health Resources and Juvenile Justice
September 20, 2016, Charleston, WV, The organization Mental Health Matters is holding a series of panel presentations around the state to advocate for juvenile justice and community-based mental health care for youth. Read More.
---
Cap on Youth at Sabilliasville Facility Recommended by Monitoring Unit
September 9, 2016, Sabilliasville, MD, An auditing organization for the Maryland Department of Juvenile Services recommended capping the number of youths allowed at a facility in Sabillasville, where employees have raised concerns about staffing. In its second-quarter report, the Juvenile Justice Monitoring Unit recommended keeping the number of boys housed in the Victor Cullen Center at 24. Read More.
---
Juvenile Services Chief Pledges Changes on Strip-Search, Shackling Policies
September 8, 2016, Baltimore, MD, Maryland Juvenile Services Secretary Sam Abed pledged Thursday to change his department's policies and move to limit the use of strip-searches and shackles on young people held in state facilities. Read More.
---
Report Examines High Costs of Juvenile Court Fees
September 1, 2016, Washington, DC, In the aftermath of Ferguson, media scrutinized the disproportionate impact of court costs and fines on low-income residents and how the financial burden posed by these penalties often led to deeper involvement in the justice system. Now a report from the Juvenile Law Center and related research looks at the consequences of court-ordered financial penalties faced by families involved in the juvenile justice system. Read More
---
Hoping to Reduce Recidivism, Maryland Introduces Tech to Juvenile Facilities
August 25, 2016, Baltimore, MD, Maryland's juvenile facilities will see an increase in technology in classrooms as part of an ongoing effort to improve the long-beleaguered education system for young offenders. Read More
---
Report Blasts Plan to Change At-Risk Kids' Psychiatric Care
August 25, 2016, Charleston, WV, The state Juvenile Justice Commission has accused the West Virginia Department of Health and Human Resources of operating under a "cloak of secrecy" while negotiating new contracts to place youths in residential psychiatric facilities. Read More
---
Classrooms in Maryland's Juvenile Facilities to Get More Technology
August 24, 2016, Baltimore, MD, Maryland's juvenile facilities will see an increase in technology in classrooms as part of an ongoing effort to improve the long-beleaguered education system for young offenders. Read More
---
DHHR Responds to Commission Report, Calls Juvenile Reforms Necessary 
August 23, 2016, Charleston, WV, The West Virginia Department of Health and Human Resources has responded to accusations by a special commission that proposed changes to its juvenile residential treatment model were made "in secret," arguing that those changes are necessary to correct problems outlined in an earlier U.S. Department of Justice report. Read More
---
Virginia Moving Forward on Juvenile Justice Plan, but Advocates Push Back Against New Youth Prison in Chesapeake
August 23, 2016, Richmond, VA, A Virginia task force is moving forward on a plan to build a new youth prison in Chesapeake as part of a plan to transform the state juvenile justice system, but advocates want to stop the project until the rest of the strategy is complete next year. Read More
---
Juvenile Justice Commission Issues Findings, Recommendations
August 23, 2016, Charleston, WV, The Juvenile Justice Commission has issued findings of fact and recommendations from its July 27 public forum on changes to contracts involving youth shelters and residential providers. Read More
---
WV DHHR Slammed for Changes to At-Risk Juvenile Placement
August 22, 2016, Charleston, WV, A commission created to oversee juvenile justice issues in West Virginia harshly criticized the state Department of Health and Human Resources in a report issued Monday and called on the agency to immediately withdraw plans to change how it pays to place juveniles in residential treatment facilities. Read More
---
Nearly Half Of Juvenile Centers Use Isolation As A Form Of Control
August 21, 2016, WV, A West Virginia mother whose 16-year-old son was struggling with ADHD wanted to get him services but wasn't sure what to do. The assistant principal at her son's school suggested she file an incorrigibility petition — a status offense — against her son, whom we'll call John, so he would be eligible for those services. Read More