Regional Centers
NJDC collaborates with nine Regional Juvenile Defender Centers. Each Center coordinates activities in the states within its region and keeps NJDC connected to the front lines of juvenile defense, whether they are in an urban, suburban, rural, or tribal setting. The activities each Center undertakes include helping to compile and analyze juvenile indigent defense data, facilitating organizing and networking opportunities for juvenile defenders, offering targeted state-based training and technical assistance, and providing case support specifically designed for complex or high profile cases.
Each Regional Center has its own website focusing on issues relevant to the states of that region. While the NJDC website acts as a clearinghouse for juvenile defense information nationwide and pulls from sources in each state, for more discrete issues or targeted state-based work, or to become part of the regional network of defenders, check out the Regional Centers' websites. To join the email listserv for your region, please sign up on the listserv page of the NJDC website.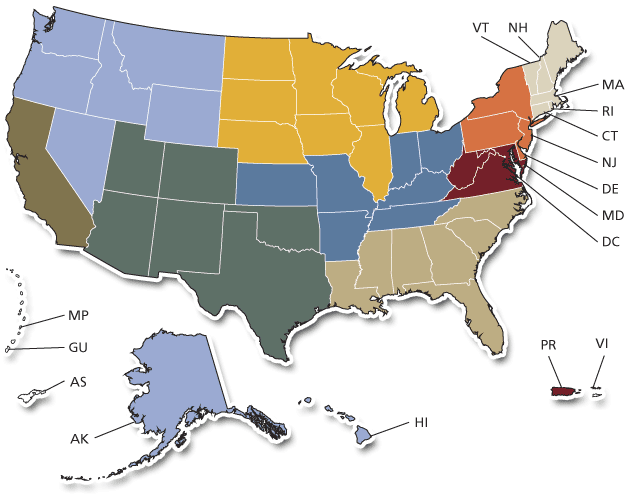 Arkansas, Indiana, Kansas, Kentucky, Missouri, Ohio, and Tennessee
Amanda Mullins Bear
Children's Law Center
215 West Short St., Suite 205
Lexington, Ky 40507
(859) 253-3353
abear@childrenslawky.org

Christina Kleiser
Knox County Public Defender's
Community Law Office
1101 Liberty Street
Knoxville, TN 37919-2328
(865) 215-6473
ckleiser@pdknox.org
---
District of Columbia, Maryland, Puerto Rico, Virginia, and West Virginia
Kristin Henning
Juvenile Justice Clinic
Georgetown University Law Center
111 F Street, N.W.
Washington, D.C. 20001
(202) 662-9592 (phone)
hennink@law.georgetown.edu
Debbie St. Jean
Office of the Maryland Public Defender
Juvenile Protection Division
201 East Baltimore Street
Baltimore, MD 21202
(410) 223-3783 (phone)
Dst.jean@opd.state.md.us
---
Illinois, Iowa, Michigan, Minnesota, Nebraska, North Dakota, South Dakota, and Wisconsin
Betsy Clarke
Illinois Juvenile Justice Initiative
PO Box 1833
Evanston, IL 60204
(847) 864-1567 (phone) / (847) 570-0749 (fax)
bcjuv@aol.com

Devon Lee
Wisconsin State Public Defender
315 North Henry Street
Madison, WI 53703
(608) 261-0633
leede@opd.wi.gov
---
Connecticut, Maine, Massachusetts, Rhode Island, New Hampshire, and Vermont
Pamela Jones
New Hampshire Public Defender
44 Franklin St.
Nashua, NH 03064
Phone: 603-598-4986
pjones@nhpd.org

Wendy Wolf
Youth Advocacy Division
Committee for Public Council Services
44 Bromfield Street
Boston, MA 02108
(617) 988-8451 (phone)
wwolf@publiccounsel.net
---
Delaware, New Jersey, New York, and Pennsylvania
Laura Cohen
Clinical Law Professor, Rutgers Law School
123 Washington Street
Newark, NJ 07102
(973) 353-3187 (phone) / (973) 353-3397 (fax)
lcohen@kinoy.rutgers.edu

Tiffany Sizemore-Thompson
Duquesne University School of Law
600 Forbes Avenue
Pittsburgh, PA 15282
(412) 396-5694
sizemoret@duq.edu
---
California
Patricia Lee
200 Pine Street, Suite 300
San Francisco, CA 94104
(415) 753-7610 (phone)
Patricialeesfdefender@yahoo. com
---
Alabama, Florida, Georgia, Louisiana, Mississippi, North Carolina, and South Carolina
Whitney Untiedt
Director of Pro Bono Initiatives
Akerman LLP
One Southeast Third Avenue, 25th Floor
Miami, FL 33131
305. 374.5600
whitney.untiedt@akerman.com

Randee Waldman
Clinical Professor of Law
Director, Juvenile Defender Clinic
Emory Law School
1301 Clifton Rd.
Atlanta, GA 30322
404.727.6235
rwaldm2@emory.edu
---
Arizona, Colorado, New Mexico, Oklahoma, Texas, and Utah
Ellen Marrus
University of Houston Law Center
100 Law Center
Houston, Texas 77204-6049
(713) 743-0894 (phone) / (713) 743-2238 (fax)
emarrus@uh.edu

Christina Phillis
Maricopa County Office of Public Defense Services
620 W. Jackson, Suite 3076
Phoenix, AZ 85003
(602) 506-1977
phillisc@mail.maricopa.gov
---
Alaska, Hawaii, Idaho, Montana, Nevada, Oregon, Washington, and Wyoming
Susan Roske
Clark County Public Defender Office
601 North Pecos Road
Las Vegas, NV 89101
(702) 455-2003 (phone) / (702) 455-6836 (fax)
roskesd@co.clark.nv.us

George Yeannakis
TeamChild
1225 S Weller #420
Seattle, WA 98122
(206) 322 2444 x107 (phone)
george.yeannakis@teamchild.org
---
Territories Not Associated with a Regional Center
American Samoa, Guam, the Northern Mariana Islands, and the U.S. Virgin Islands
NJDC is working to develop stronger ties to the defender community in these territories. Contact NJDC directly at 202-452-0010 or inquiries@njdc.info  for more on our efforts in these areas.